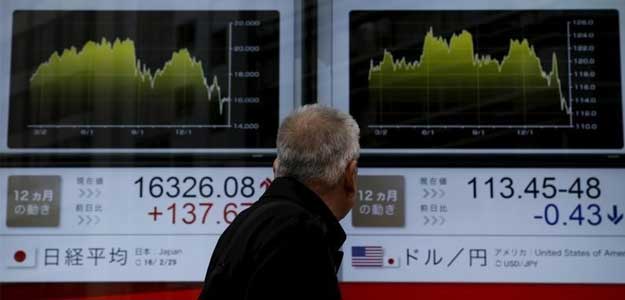 Sydney: The U.S. dollar gained on the yen in Asia on Monday as investors unwound safe-haven trades in the wake of the failed coup in Turkey, while a giant takeover bid in the tech sector and the promise of central bank stimulus lent support to equities.
The Turkish lira was quoted around 2.9675 after the dollar climbed almost 5 percent late Friday to a six-month peak around 3.0476. Dealers noted liquidity was sparse and a true price would only be found once Turkish markets opened.
Ankara said it was in control of the country and economy and widened a crackdown on suspected supporters of the failed military coup, taking the number of people rounded up from the armed forces and judiciary to 6,000.
The initial reaction of investors to the coup had been to bid up safe havens such as the Japanese yen, but that was quickly unwinding. The dollar was at 105.60 yen having briefly been as low as 104.63 late Friday, with trade further thinned by a holiday in Japan.
Likewise, the euro had steadied at $1.1067 after gapping as low as $1.1021 on Friday.
MSCI's broadest index of Asia-Pacific shares outside Japan added 0.1 percent having reached its highest in almost nine months last week. Australia rose 0.4 percent while Shanghai was a fraction lower.
Helping sentiment was a Financial Times report that Japan's SoftBank Group Corp had agreed to buy ARM Holdings PLC for 23.4 billion pounds ($31.04 billion).
The deal, one of the largest in European technology to date, is expected to be announced later on Monday, the newspaper said.
The E-mini futures contract for the S&P 500 was up 0.2 percent, following on from Friday's upbeat U.S. economic data. The Dow had ended 0.05 percent firmer, while the S&P 500 and the Nasdaq both lost 0.09 percent.
MORE RATE CUTS TO COME  
Prices for U.S. Treasuries were a shade lower with yields on the 10-year note edging up to 1.56 percent.
In commodity markets, spot gold eased to $1,328.16 per ounce.
Oil prices were little changed with Brent crude up 6 cents at $47.68 a barrel, while NYMEX crude fell 6 cents to $45.89.
One mover was the New Zealand dollar which slipped when domestic inflation data showed a surprisingly soft rise of 0.4 percent in the year to June.
The kiwi slid half a U.S. cent to $0.7086 as the market narrowed the odds on a cut in rates from the Reserve Bank of New Zealand next month.
Investors are also wagering on policy easings from the Bank of England and Bank of Japan in coming weeks, while few see much chance of the Federal Reserve hiking U.S. rates anytime soon.
"We've pencilled in rate cuts over the coming months in Korea, Taiwan, China, Australia, New Zealand, Japan, Indonesia, Malaysia, Thailand, and India," said Frederic Neumann, co-head of Asian economic research at HSBC.
"The global yield compression and the decline in FX volatility thanks to a plateauing U.S. dollar is making it easier for monetary officials across the region to deliver more easing."
["source-ndtv"]