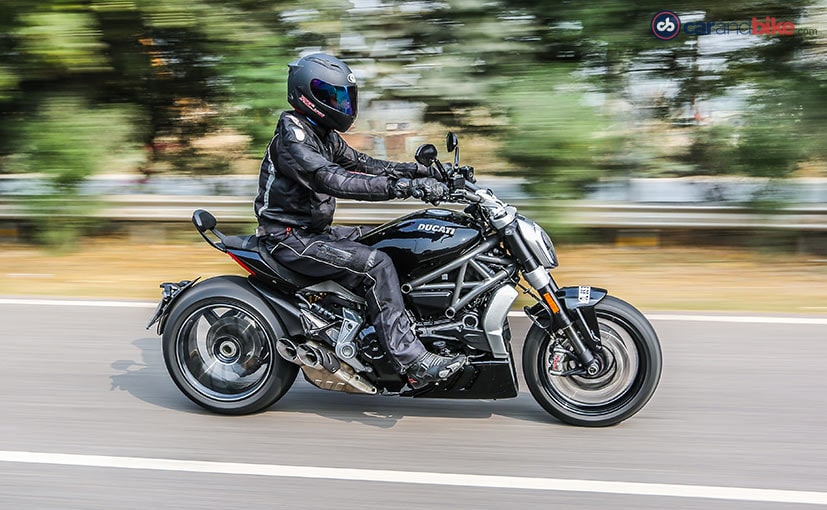 The Ducati XDiavel S is the Italian motorcycle manufacturer's answer to the cruiser market. It looks unique, very attractive and is a guaranteed head turner. And it's packed with enough performance to scare you silly. We spend some time with the new XDiavel S, a bike named after the devil and with pronounced cruiser elements.
Long, low and muscular – that just about sums up the way the Ducati XDiavel looks. It's modern, sexy and packed with cutting-edge components, be it the classic Ducati exposed trellis frame, the machined wheels to the immaculately polished gloss finish on the fuel tank and engine. The unique headlight with the Daytime Running Light and TFT instrument screen further add to the "hi-quality" finish of the Ducati XDiavel S.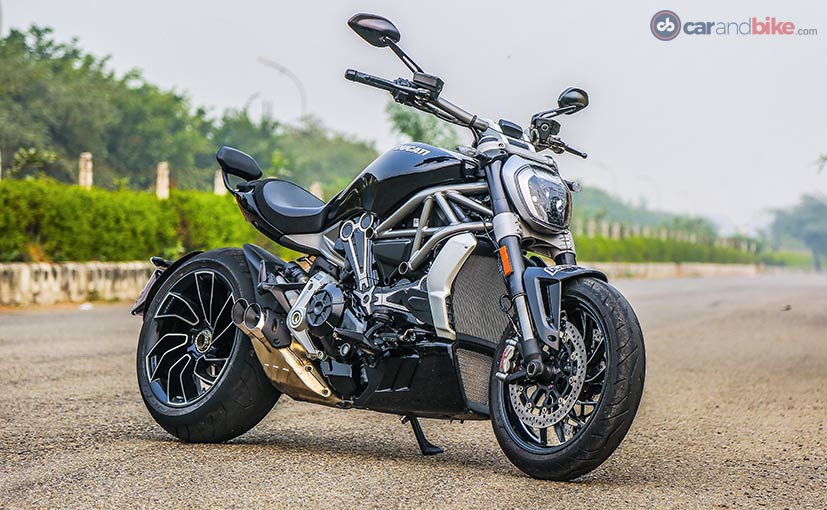 You can look at it from any angle, but what is immediately evident is that it is unlike any other motorcycle available in the market right now. Yes, it has trademark cruiser elements – forward-set footpegs, a low and raked out chassis design and tall, wide handlebars. But that's where the design similarities end; in fact, the XDiavel doesn't look anything similar to your classic American cruiser.
The original Diavel was named after the devil (in Bolognese dialect) and this, the latest version gets the 'X' prefix in the name. Ducati says the 'X' stands for being a crossover, promising cruiser ride quality and sport bike performance. And the overall silhouette of the bike is certainly sporty; even when standing still, the XDiavel looks crouched and coiled, ready to break into a sprint. The S version gets gloss paint and aluminium bits on the engine, but mechanically, both variants are identical.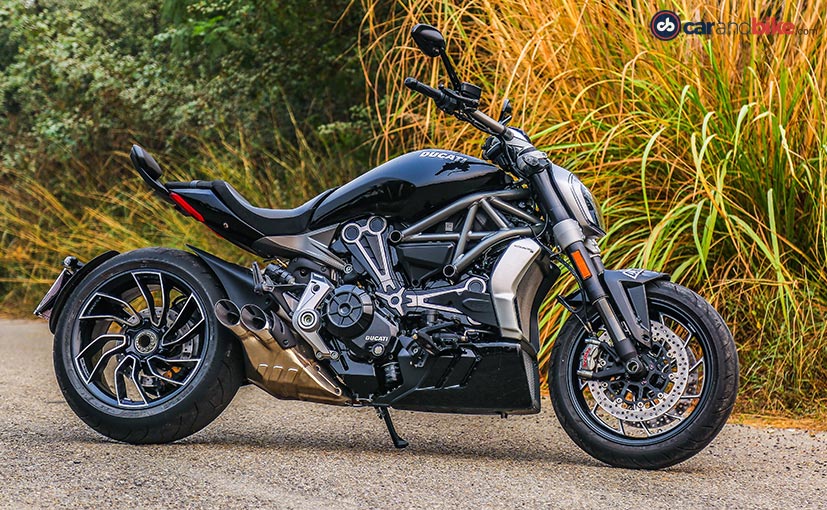 The XDiavel is powered by a 1262cc, L-twin, Testastretta DVT engine with desmodromic valve timing (Ducati-speak for variable valve timing) and makes 156bhp of maximum power at 9500rpm. Then there's the torque (nearly 129Nm of it) kicking in at 5,000rpm and over 98Nm of it available at just over 2000rpm. The result is loads of low-end grunt for laid-back riding, but open the throttle and there's more than enough pull to keep you entertained.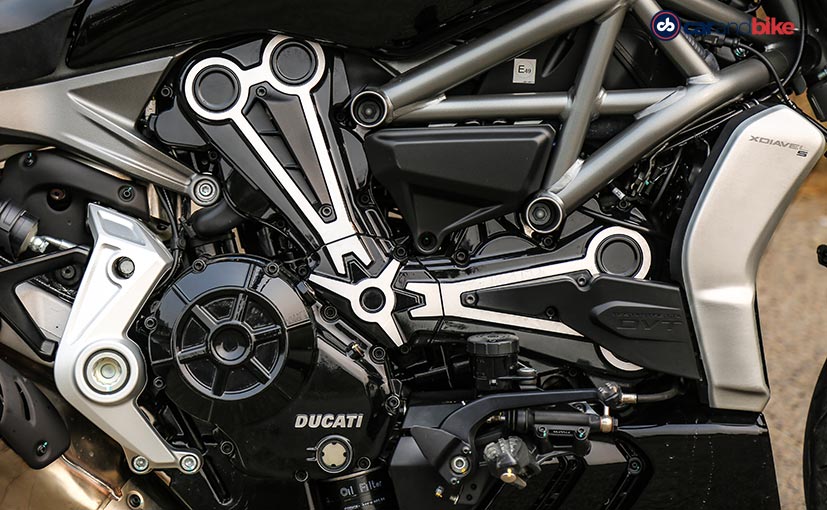 The XDiavel's ride-by-wire system offers three riding modes – Urban, Touring and Sport. In Urban, power is restricted to 100bhp while there is an increased safety net of traction control and ABS dialled up high. In Touring mode, the full 156bhp power is available but with a soft and easy to handle power curve. Sport mode wakes up the beast in the XDiavel's personality, with full 156bhp power and crisper throttle response; ABS and traction control are also least restrictive.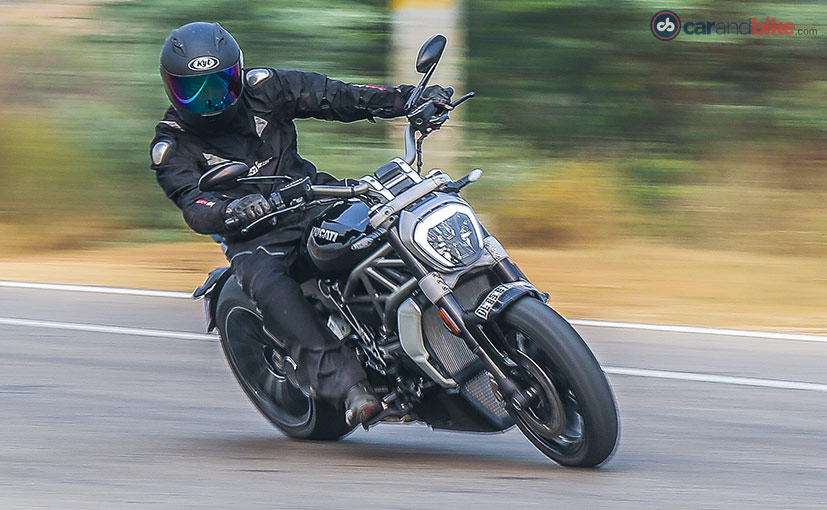 In fact, swapping between Urban and Sport is like riding two different bikes, such is the difference in personality. You could use the cruise control to languidly ride a long, straight highway and you could also whack open the throttle in Sport mode for more spirited riding. But show a set of corners and you realise that the XDiavel's handling is surprisingly agile; the bike belies its cruiser looks, allowing you to push it harder, faster, around a bend.
The mad rush of acceleration slams you back and it takes some getting used to holding on to the bars, feet forward and the world a blur. It's only the lack of wind protection which makes you back off from the throttle after a few minutes of adrenalin-pumping, unmentionable speeds. There's the Ducati Power Launch option too, but advisable to use only in a closed environment or on a track. Naturally, we didn't try it out on public roads. Equipment also includes a six-axis Bosch inertial measurement unit and cornering ABS. Each setting, together with the Riding Modes can be individually customised and modified separately in terms of its intervention.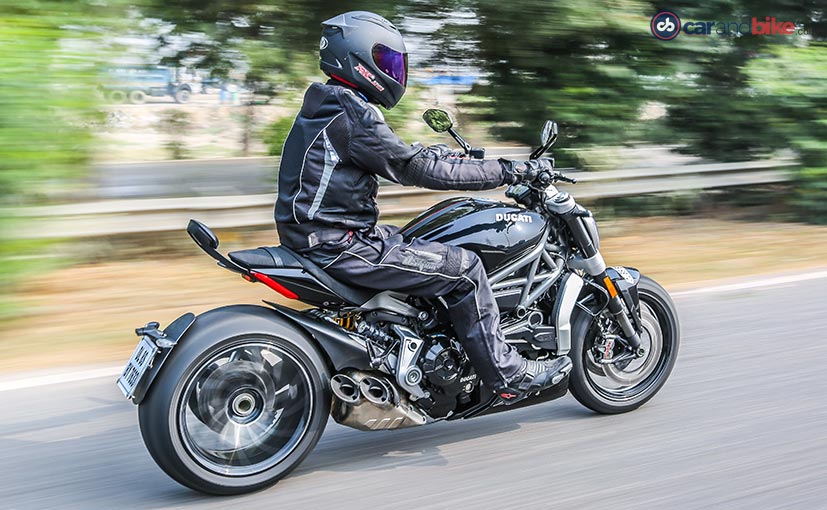 Front suspension is an adjustable 50mm USD fork with a 17-inch machined wheel suspended from it, while the rear is a single shock absorber from Sachs, with adjustable preload and rebound. With stock settings, ride quality is on the firm side, so the XDiavel feels taut and well-balanced, whether you're negotiating traffic or taking on a tight turn. But show it a broken patch or a joint or two on a flyover and the bumps are transferred through to the rider. It's not a deal breaker, but ride quality is far from 'plush' in our road conditions. Of course, you can adjust the fully adjustable suspension but we didn't feel the need to tinker with the settings.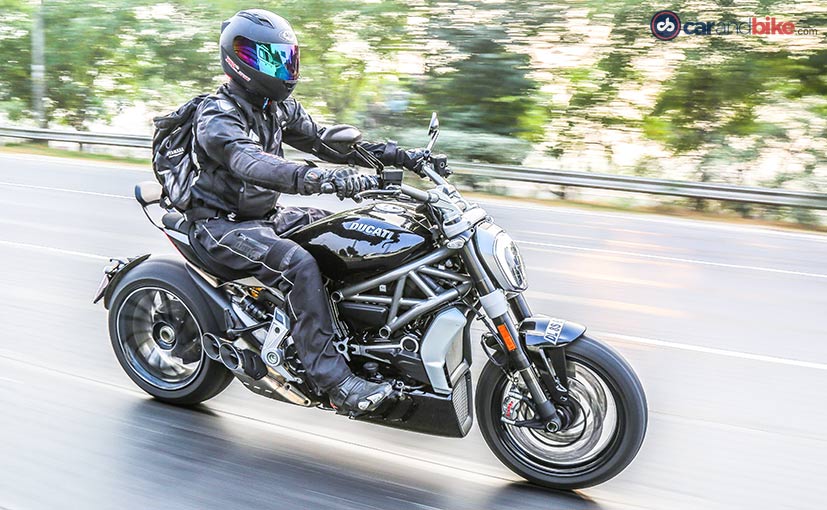 In a way, the Ducati XDiavel offers the best of both worlds – that of the exhilarating performance of a litre-class superbike and the relaxed, laid-back attitude of a cruiser. It's no sport bike though, and with a weight of 247kg (wet), it's not exactly light but the weight is well distributed. Crawling through traffic isn't so much of a chore and even backing it up and tip toeing at a tight parking spot isn't too much of a bother.
At Rs 18.47 lakh (ex-showroom Delhi), the Ducati XDiavel S is one unique motorcycle which doesn't have any real competition. The standard XDiavel costs Rs 15.87 lakh (ex-showroom Delhi). So, if you're looking for a cruiser with looks that stand out, and with edge-of-the-seat performance, the XDiavel could well be that bike for you. But the only way to really describe the experience of what the Ducati XDiavel is – you have to get astride and grab a handful of that throttle. Life could suddenly get very interesting indeed.
["source-ndtv"]