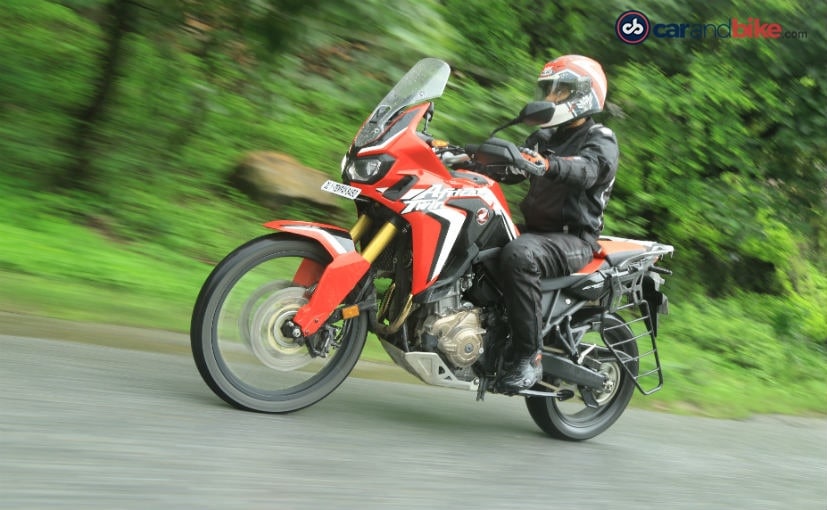 The legendary Honda Africa Twin is back! And this time it's in India and in full automatic form. The Honda CRF1000L, or Honda Africa Twin as it's popularly known, made its global debut last year, and promises a very capable adventure bike, with off-road manners inspired by its thoroughbred dual purpose and rally-oriented origins in Honda's global line-up. Does it have what it takes to be a winner in the booming adventure bike category? We spend some time with the new Africa Twin around Udaipur, Rajasthan.
It's got the look
The Honda Africa Twin certainly looks attractive, very attractive actually, in its trademark 'victory red' shade, which is the only one on offer in India. The bike follows typical adventure styling, with a tall stance, minimal bodywork, but with a sort of half-fairing influenced by rally enduro bikes, dual LED headlights topped by a windscreen, large, spoked wheels with a 21-inch front and an 18-inch rear, and high ground clearance. Compared to other adventure bikes in its class, the Africa Twin looks slim, and lithe, although it's got plenty of road presence and turns heads everywhere.
The instrument panel gets a nice back-lit panel and readability is one of the very best in this segment right now. Yes, it's all-digital, so even the tachometer is a bar, and you get different read-outs like fuel gauge, time, traction control set-up, gear position indicator, ambient air temperature, fuel consumption, two trip meters and digital odometer. Switchgear is high quality too, and going through the different menus is easily laid out on both the left and right handlebars. The horn switch and turn signal indicator still takes some getting used to, and you end up honking while thumbing the turn indicator, at least it happened to us on more than one occasion.
The heart of the matter
This time around, Honda engineers decided to give the new Africa Twin a parallel-twin set-up instead of the v-twin motors earlier versions of the AT has had. In the India-spec bike, the 998 cc, liquid-cooled, parallel twin motor makes 87 bhp at 7500 rpm and 91.9 Nm at 6000 rpm. The European-spec model makes slightly more figures, but the upside is that the Africa Twin runs on standard fuel in India, so you can run it on any octane fuel, sourced anywhere in the country.
If it's just a matter of numbers on paper, our figure-obsessed fraternity may argue the Africa Twin isn't the most powerful, but how much power do you need really? And how many times does the average rider use all that power? In our experience, the Honda Africa Twin has more than enough punch really, for long hours on the highway, effortless overtaking and is more than adequate for the average rider who has touring in mind, with a fair bit of off-road riding thrown in.
It's an automatic!
With a seat height of 820 mm at the lowest setting, the biggest advantage is that the Africa Twin isn't intimidating and terra firma is easily accessible to riders of different heights and build. What is unique is the new DCT, or dual clutch transmission, so there's no gear lever (although you do get an accessory pedal shifter) for quickshifter-type clutch-less up-shifts and downshifts. There's no clutch lever as well, instead, you get a rear brake lever with a parking brake on the left handlebar, and the lever's reach is increased so that you don't end up pulling the rear brake instinctively.
We were a little sceptical of the DCT at first – after all, what good would an automatic transmission be on an adventure bike? The Africa Twin's DCT has three modes – D (Drive), a three-level Sport (S1, S2 and S3 with different gear ratios) and a full Manual mode. But all doubts were quickly dispelled within the first 15 minutes of riding it. You change gears on the manual through two switches on the left switchgear, '+' for upshifts and '-' for downshifting. Manual shifting can be engaged in any mode, with just the press of a button, and is handy for quick overtakes as well as rapid engine braking.
honda africa twin. africa twin first ride review, africa twin first ride, honda africa twin india review
The Africa Twin offers great long distance ability and superb off-road performance
Performance Play
Our first ride started in the wet, with rain coming down easy and steady, and we started the ride with the Honda Selective Torque Control (HSTC), which is the traction control in everyday speak, set on the highest level. The DCT works seamlessly, but on D, it short shifts, so go easy on the traffic in city speeds and you will be cruising sedately at 65 kmph in sixth gear. But blip the throttle, and even on D mode, the gear ratios change and the transmission holds lower gears at higher revs, giving you the needed power.
The three-level traction control at the highest level kicks in at the slightest instance of the rear wheel losing traction, so the TC light is flashing quite frequently on the wet roads. In Sport mode (S1, S2 and S3), the ratios change, allowing for higher rpm gear changes in increasing order. But there's always the manual shifter buttons if you want to upshift, or downshift according to your own preferences.
The parallel-twin motor gets to the ton quickly, but it's not exactly a high-revving unit. Peak torque on paper kicks in at 6,000 rpm, but you sense the power surging from as low as 4,000 revs, and that translates to a lot of grunt, lot of pulling power for effortless riding, whether on a highway or negotiating climbs. Highway speeds are more than adequate to cover long distances and the bike can cruise steadily at over triple digit speeds, with more than enough power left for even more. Maximum speed is rated at 190 kmph, but we didn't really feel the need to explore the bike's top end. Low- and mid-range grunt is more than adequate and will be welcomed by riders of all levels of experience. For me, S2 and traction control at Level 1 suited the most in the tarmac with the switchable ABS set on.
How does it ride?
The suspension setup on the Africa Twin is on the softer side, and gets Showa cartridge type, 45 mm upside down fork with a 230 mm stroke. The rear wheel also gets 220 mm travel and gets a monoblock cast aluminium swing arm with gas-charged damper with preload adjustability and rebound damping. It's adjustable, but we left it in the stock setting and the suspension is superb going over potholes, puddles and broken roads. At 245 kg weight, it isn't what you'd call a light bike by any standard, but the weight is evenly distributed and that makes it feel lighter, nimbler than what it actually is. The semi double cradle chassis is inspired by Honda's rally bikes as well, and that lends the bike superb stability.
Ride quality on tarmac is quite good, but the long travel suspension play takes some getting used to, going over crests on the road or when leaned over in a corner. It could be set up stiffer for better on-road manners, but the stock settings never leave you feeling unsettled, even when taking sweeping curves with some minor road undulations. It's when the tarmac ends, the Africa Twin comes into its own – there's plenty of mid-range grunt and that is a boon, whether going uphill or negotiating downhill sections. The 'G' switch allows half-clutch operation for more throttle action and also works as a hill-hold feature, so climbing inclines or going downhill you don't even miss the clutch lever, or the gearshift lever at all. If anything, the DCT allows you to concentrate more on where you are going and how the bike is handling, without concentrating on using your toe-shifter.
Put it in manual, traction control and ABS off, and the Africa Twin eats up off-road terrain without a care in the world. Gas it in first, the rear steps out, but point the wheel where you want to go, and the Africa Twin becomes a very, very forgiving off-road tool, never for once leaving you with a sense of being out of control, or the bike feeling unsettled. The high 250 mm ground clearance ensures it can go over rocks, rocky terrain and anything you throw at it, and you can just stand up on the pegs, and go where you want. The DCT works like a dream; purists may scoff at it, but it's really a very convenient feature, and makes riding a big adventure bike like the Honda CRF1000L that much easier, and will be welcomed by riders of varying levels of experience.
honda africa twin, africa twin first ride review, honda africa twin india review
Honda Africa Twin ticks all the right boxes an all-round great adventure bike
The last word
The Honda Africa Twin is assembled in India, and it's offered at a very competitive price of ₹ 13.06 lakh (ex-showroom). What the Honda Africa Twin offers is a superb adventure bike with great highway manners and excellent off-road ability. It still doesn't offer ride-by-wire but the electronics are more than enough for all your needs. It looks absolutely fantastic, has great all round manners and very, very capable off-road ability. It will eat up almost all kind of terrain you'd want to show it.
Our ride back involved getting lost in the crowded lanes of Udaipur for nearly the better part of half hour, and it's then when you realise what a boon the DCT really is. And to top it off, there's no engine heating issue really, so you can very well do the office commute easily without worrying about the clutch or heat in bumper to bumper traffic. If I were in the adventure bike market, looking for a bike which looks great, performs great and can excel when the road ends, I would certainly take a very good look at the Honda Africa Twin. Go ahead, take a test ride of the Africa Twin before you buy that adventure bike, you won't be disappointed.
["source=auto.ndtv"]