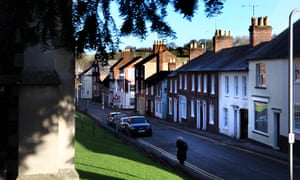 High prices and hefty stamp duty bills have resulted in a near one-third drop in house moves in some parts of the country over the past year, according to research by Lloyds Bank.
The number of home sales in England and Wales fell by 7% in 2016 to 848,857, but dropped most heavily in London, by 18%, and 10% in the south-east. Brent in north London and Berkhamsted in Hertfordshire saw falls of 30% in the number of transactions.
Overall housing market activity is now substantially below the 1.2m to 1.3m in annual sales common before the financial crash, said Lloyds. Places as diverse as Westminster and Hull have seen 55%-plus falls in sales over the past decade, while every local authority in England and Wales had lower sales in 2016 than in 2006.
The detailed sales map of England and Wales shows big falls in once frothy markets such as Hackney (down 26% last year) and Southwark (down 24%) in London, alongside declines in areas with structural economic problems, such as the former coal and steel town of Workington in Cumbria (down 26%).
"The recovery in the housing market has stumbled during the past year with sales declining in all regions," said Andy Mason of Lloyds Bank. "Despite record low interest rates and government schemes, such as Help to Buy, sales remain significantly below the levels seen at the height of the last housing boom."
Prices also remain near all-time peaks, representing another potential deterrent to buyers. The average house price in Britain is £220,706, according to Halifax, up 3.3% over the past year, although slightly below the all-time peak of £222,190 in December 2016. Since 2006 house prices have risen by 29% nationally but 93% in London, according to the Nationwide index.
But there were crumbs of comfort for first-time buyers, who now make up a bigger proportion of buyers than in recent years. Lloyds' housing economist, Nitesh Patel, said stamp duty increases had helped reduce second home and landlord buying. They had also deterred buyers in the premium end of the market in London and the south-east.
Stamp duty on a £1m home is now £43,750, which, once added to estate agency and legal bills, has made moving prohibitively expensive for many families. Lloyds said the average cost of moving home is £11,000 in England and Wales, rising to £31,000 in London.
The long buy-to-let boom may also have fundamentally changed the dynamics of the property market. Many small flats and houses have been bought as investments for a pension, and may therefore not reappear on the market for decades, said Patel.
The average property now changes hands once every eight years, said Patel, a year longer than the commonly held view that people move every seven years, although he added that there is incomplete data in this area.
The decline in transaction activity has knock-on effects in other parts of the economy, stretching from income for estate agents and conveyancing solicitors through to sales of furniture and electrical stores which tend to benefit when people move home and buy new goods.
Last year Countrywide, the estate agent group, announced the closure of more than 50 branches, while London agency Foxtons warned in March of tough trading conditions in 2017 as it reported a 54% fall in profit for last year.
However, the total number of estate agents in Britain is today about 15% above the last pre-recession peak, said Mark Hayward of the National Association of Estate Agents, with rising house prices making each transaction more valuable. But he warned that if transaction activity continued to fall, closures may be inevitable.
"Commission has reduced in percentage terms but due to house price inflation, the amount agents receive is not vastly different," he said. "It's true that we aren't seeing a raft of closures; when you look at the amount of commission received and number of sales that take place it does suggest it's not sustainable in the long term."