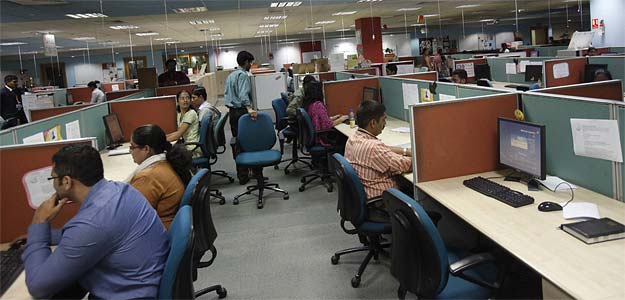 Shares of IT companies have underperformed the broader markets in the past one month. Concerns over the fallout from Brexit and, more recently, the guidance cut from Infosys have dented sentiment in IT stocks.
Veteran market expert Ajay Bagga says Indian IT companies are likely to see further de-rating. He cited various reasons for the underperformance of shares of Indian IT companies.
"Drivers for growth in IT space are very different and Indian IT companies are laggards there. For instance, Amazon has more than $10 billion revenues coming from cloud space. Each of our big IT companies has not more than $1 billion from cloud," Mr Bagga said.
Mr Bagga was also critical of Indian IT companies' activity in the start-up economy space.
"We have been waiting and watching what IT companies will do with new start-up economy, shared economy and aggregator economy. There is not much coming. Look at Google, even a laggard like Yahoo and the number of start-ups that they incubate, the numbers of start-up they are buying every quarter. Our companies are just not there," he said.
The way the IT companies are managing their huge cash pile also came under criticism from Mr Bagga.
"IT companies are sitting on Rs 30,000 crore of cash, buying government of India gilts (government bonds). You are bringing down the return on equity, you don't return anything to shareholders by giving good dividends or through share buybacks," he said.
"So why should we give IT companies premium valuations?" Mr Bagga asked. "IT companies are outdated as far as technology goes, don't do anything with cash flows nor are they doing any cutting edge work trying to be nimble like a small company."
"IT sector will see a further de-rating and there is no big driver coming. Neither they are doing Big Data, analytics, cloud or internet of things," Mr Bagga said.
Mr Bagga said if shares of IT companies underperform over a longer period, it would cast a big shadow over the overall markets. "It is sad for Indian markets because IT companies are 19 per cent of Indian share markets. If IT sector does not perform then our market will get a big hangover," he said.
["source-ndtv"]