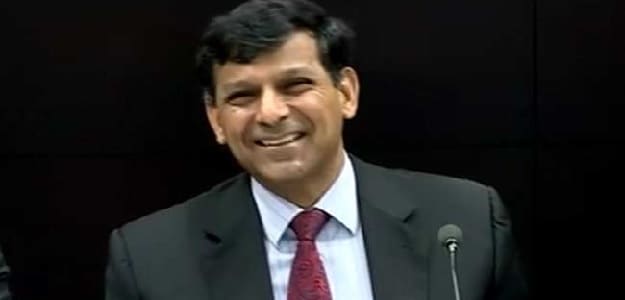 Reserve Bank Governor Raghuram Rajan on Tuesday cut the benchmark repo rate by 25 basis points and has promised to ensure that lenders pass on the benefits of lower interest rates to consumers.
Here is a 10-point cheat-sheet
1) Stock markets, which had rallied on hopes that Dr Rajan would announce a bigger rate cut, fell sharply. The Sensex slumped 516 points while Nifty ended at 7,603. Markets posted their worst day in nearly two months as investors booked profits in banking stocks after the RBI cut interest rates by a quarter percentage point as widely expected.
2) The central bank's first rate cut in over six months sent interest rates to a five-year low of 6.50 per cent. "Perhaps more important at this juncture is to ensure that current and past policy rate cuts transmit to lending rates," Dr Rajan said.
3) The RBI had cut its repo rate by 125 basis points last year, but banks, complaining of tight cash conditions, only lowered their lending rates by around 60 basis points, preventing rate cuts from reaching the borrowers.
4) Interest rates however started falling since April 1, afterlenders adopted a new formula to calculate rates following the RBI's orders. "Borrowing is now significantly cheaper and will continue to get so," said Dr Rajan.
5) The RBI said its policy would remain "accommodative", raising the prospect of another rate cut later this year.
6) The central bank also took steps to ensure more availability of cash in the banking system by reducing the cash proportion of their daily reserve requirements that banks must keep with the RBI, while pledging to inject more long-term liquidity.
7) Controlling inflation is the RBI's priority, but Prime Minister Narendra Modi's government would welcome any move to improve business conditions for industrialists who, despite data depicting India as one of the world's fastest growing economies, remain hesitant to invest.
8) In other comments post policy, Dr Rajan said the RBI will be part of the team that will investigate the "Panama Papers", which name about 500 Indians in a list of some of the richest and most powerful people with offshore accounts.
9) The RBI governor said there are legitimate reasons for offshore accounts to exist.
10) Dr Rajan also said there is a need to investigate an increase of cash during elections not just in poll-bound states, but also in neighbouring states. "It's Rs 50,000 crore to Rs 60,000 crore more than we estimated for this time of the year. There is something more. We need to investigate," he said.
["source-ndtv"]