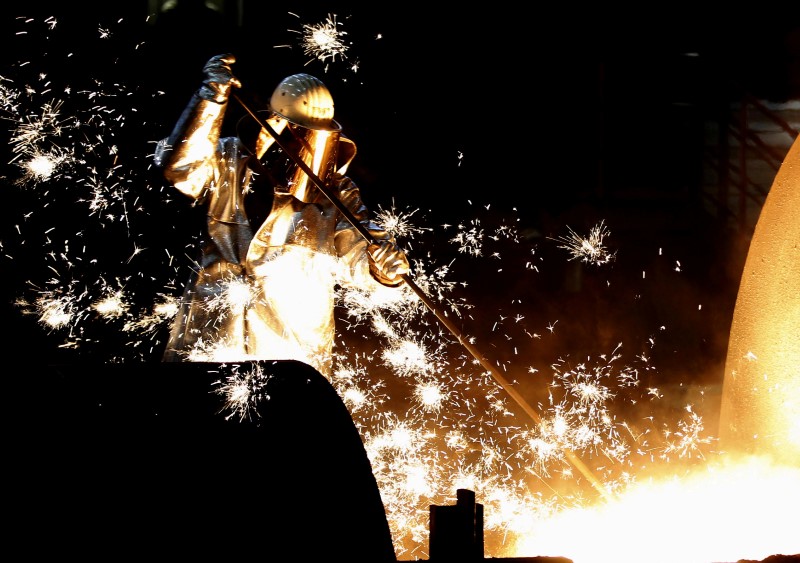 BERLIN (Reuters) – German industrial orders rose twice as much as expected in June as a surge in domestic demand offset weaker foreign appetite, data showed on Friday, suggesting this sector of Europe's largest economy will gain traction in the coming months.
Factories posted a 1 percent increase in contracts in June after orders for German-made goods rose by an upwardly revised 1.1 percent in May, data from the Economy Ministry showed. That beat the Reuters forecast for a 0.5 percent rise.
"The order numbers are another mosaic tile in what is a very positive picture of the economy," said Nordea economist Holger Sandte.
A breakdown of the June data showed domestic demand increased by 5.1 percent while foreign orders dropped by 2 percent, with orders from the euro zone declining by 2.4 percent.
But foreign orders are generally outpacing domestic demand even though Friday's data showed the opposite, Sandte said.
"The stronger euro isn't likely to hamper this development much so the traffic lights for the economy are still glowing green," he added.
The orders data follows a flurry of upbeat figures that have underlined the strength of the German economy seven weeks before a national election in which Chancellor Angela Merkel is seeking a fourth term.
'CLIMAX REACHED'
Recent data has shown the number of Germans out of work falling, engineering orders increasing, the manufacturing sector growing and consumer morale rising, though private sector growth has slowed.
Merkel's conservatives, who have presided over a period of economic prosperity in Germany for much of the last 12 years, have made the country's rude economic health a pillar of their campaign, promising "a strong economy and secure jobs".
The Economy Ministry said order levels, combined with an excellent business climate, pointed to a continued slight upturn in industrial activity.
But Sal. Oppenheim economist Ulrike Kastens warned that while the economic upturn was likely to continue in Germany, it was unlikely to maintain current growth rates.
"The economic climax will probably have been reached in the second quarter," she said.
The government has forecast gross domestic product (GDP) growth of 1.5 percent this year — below the 1.9 percent expansion seen in 2016, which was the strongest rate in five years.
Factories making consumer goods and manufacturers of intermediate goods both registered strong order increases but bookings for capital goods declined as robust domestic demand was unable to offset a fall in foreign orders.
Quarterly data was also strong, with order levels in the April-June period coming in 0.8 percent above first-quarter levels as bookings climbed two months in a row after falling in April, the Economy Ministry said.
[Source"indianexpress"]