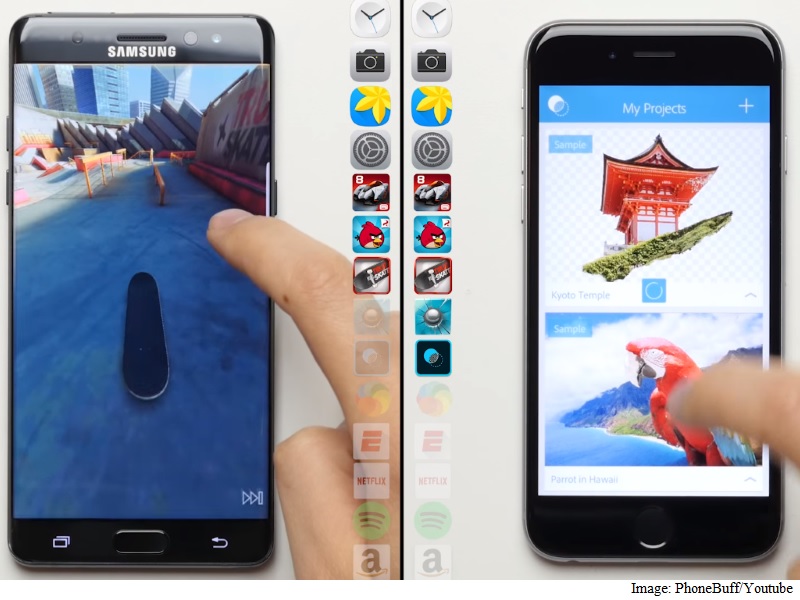 In terms of high-end smartphones, there are arguably just two companies that battle constantly to claim the crown of having the best smartphone – Apple and Samsung. Samsung launched its latest flagship phablet Galaxy Note 7 earlier this month and reviewers have already started comparing the iPhone flagship offerings to the smartphone. From the initial results, it seems like Apple might be still holding the upper hand over the South Korean company, at least in terms of real work app performance.
If we go by the latest speed test comparison video between Galaxy Note 7 and iPhone 6s posted by YouTube channel PhoneBuff, the former is well behind the latter even though the iPhone 6s was launched last year.
In the speed test, both smartphones were made to open 14 applications, one after the other and while iPhone 6s was able to perform this task in in 1 minute and 21 seconds, Galaxy Note 7 took 2 minutes and four seconds to complete the same.
Opening all 14 apps the second time, the iPhone took 1 minute and 51 seconds, while the Galaxy Note 7 took 2 minutes and 49 seconds.
The Samsung Galaxy Note 7 sports some impressive specifications as the phone packs a quad-core Snapdragon 820 SoC, coupled with 4GB of LPDDR4 RAM. On paper the phone is expected to beat Apple's iPhone 6s, which comes with dual-core A9 processor and the 2GB RAM. However tests seem to show otherwise.
Although, this test might not be conclusive proof that iPhone 6s is a faster phone compared to Galaxy Note 7, as there is only one scenario presented in the test, it is fair to assume that Apple is able to produce a significantly better results in terms of performance despite having seemingly inferior hardware because of better collaboration between the operating system and the hardware on its phones.
Apple will be coming up with its latest smartphones next month, expected to have a superior hardware than present on iPhone 6s, and it will be interesting to see how Samsung tackles the situation from here onwards.
["source-gadgets.ndtv"]