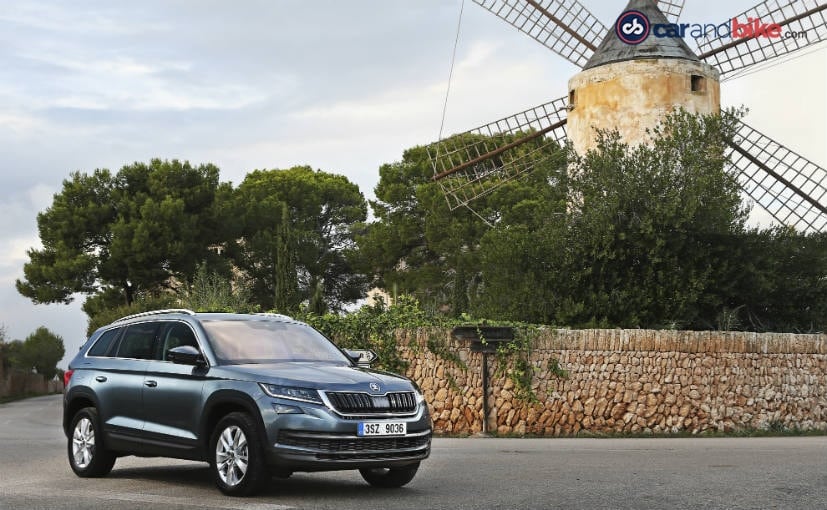 The Skoda Kodiaq is the Czech carmaker's big bet as it aims at rapidly increasing volumes in existing and new markets worldwide. And why not, after all SUVs and compact SUVs with a crossover flavour are the 'it' segment and see much higher growth (and margins) than industry averages. This is of course just as true in India too, and which is why the Kodiaq becomes very important for us – and indeed Skoda India too! Believe it or not the Kodiaq is 160mm shorter in length than the Superb sedan! The Kodiaq is 4697 mm long and has a 2791 mm wheelbase. It shares the MQB platform and much else with the Volkswagen Tiguan and Seat Ateca – and a bit with the VW Atlas just unveiled in the US. But the Atlas is over 5 metres long and so is a different animal. The Kodiaq is looking to offer good quality, efficient engines, sharp design and value. And oh in case you're still in the dark on this – the SUV is named after an Alaskan bear species.
Skoda Kodiaq
₹ 25 – 30 Lakh *
( Expected Price )
Expected Launch : Oct 2017
The Kodiaq is not pretty but is stunning. And its big advantage will be that it looks like no other SUV on the market. The styling on the Kodiaq is in line with new Skodas – i.e. the crystalline design language that means sharp lines, creased metal and very layered, bejewelled lighting elements. Skoda's new trademark 'butterfly' grille is also well finished with its chrome edge. The headlamps have a sharp LED daytime running light signature, and stand out now with the fog lights moving up into the bumper, just below the headlamp – creating a split light cluster effect. I think that is very definitive and yes you can expect that look to go into the 2nd generation Yeti when it breaks cover next year. But let me not digress!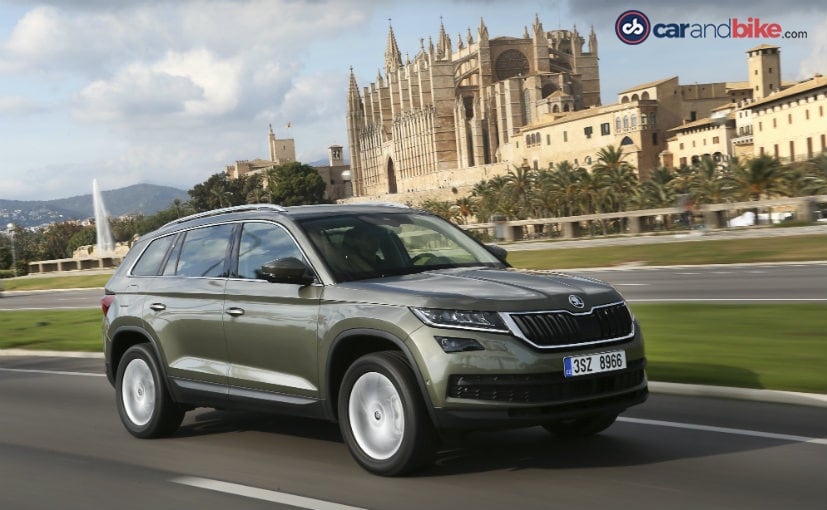 (Skoda Kodiaq in action)
My favourite design element is the very 3D and extremely angular taillight cluster. Great job on the design by Jozef Kaban and team! The car's razor sharp sexiness is complemented well by a good fit and material finish – inside and out. The car also packs in what Skoda calls its Simply Clever solutions – neat innovations like the cargo bay light in the boot that detaches and doubles up as a flashlight, foldable tray tables for 2nd row passengers,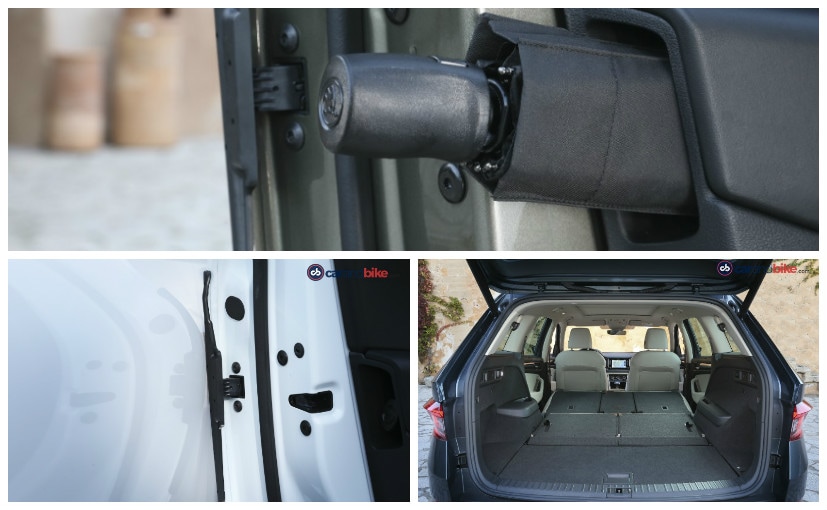 (Skoda Kodiaq gets clever touches in form of umbrella holders, door protectors and a huge boot)
umbrellas inside the frame of the front doors, etc. But these are features we have seen before. The Kodiaq has a new one that is totally apt for India. A pop out door protector – which basically sees a rubber guard emerge and envelope the edge of the door to avoid it from being damaged (or causing damage). As you shut the door it cleverly retracts itself in and so the door looks nice and smooth without the ugly rubber clamps on the after-market always-there door guards. Very neat trick! Kudos Skoda on that one.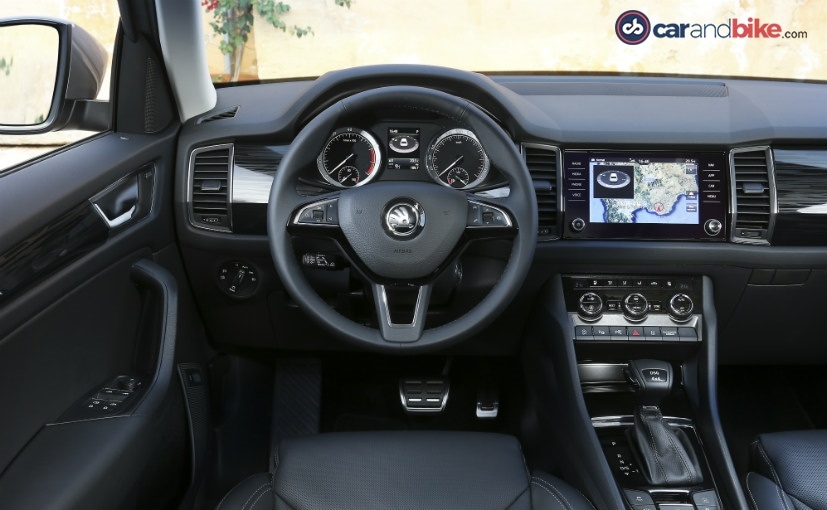 (Skoda Kodiaq Dashboard)
The cabin is well appointed though the plastics are a bit dull. But the new 'glass look' touchscreen infotainment system has a great interface and yes – offers Android Auto and Apple CarPlay. The car gets lots of equipment – driver assistance and car control included There are multiple drive modes – Comfort, Normal, Eco, Sport and Snow 4X4 – that configure the optimal throttle, gearbox, steering, air conditioner and other systems to suit that mode. The car has an all-wheel-drive (AWD) system that uses a multi-plate clutch that can alter torque distribution to the rear. It is also equipped with Skoda's Adaptive Dynamic Chassis Control. The Normal mode is a good mix of comfort and performance. The Comfort mode is good for potholed or bumpy roads – and the Sport mode is a bit too stiff for Indian tastes – but does very well on smooth and fast tarmac.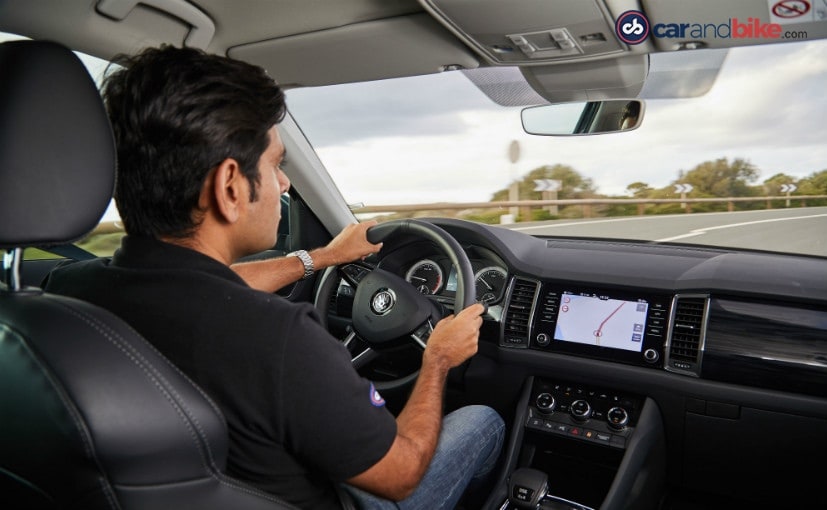 (Skoda Kodiaq does impress us with its ride and handling)
Under the hood Skoda it offers 3 engines with 5 outputs. In India we are likely to see 3 of those permutations: 2.0 TSI (petrol, 177 bhp, 320 Nm), 2.0 TDI (diesel, 147 bhp, 340 Nm), 2.0 TDI (diesel, 187 bhp, 400 Nm). I can confirm to you that the India spec car will have AWD and 7-Speed DSG as standard across all three. I drove all three iterations of the car and I can tell you that my pick of the pack is the 2.0 with 147 bhp! It is married beautifully to the gearbox, and its smaller turbo offers quicker reaction. It is also mapped better for slower speed and city driving – offering instant punch when needed – unlike the larger 187 bhp output version that has been tuned for more effective highway performance. That makes the lower spec actually the better-suited model for India! The petrol is very smooth and is also extremely fun to drive. The car's performance will be class-leading I reckon, though the Tiguan's slightly shorter wheelbase will give it slightly better handling credentials. The Kodiaq's cornering and handling ability is admirable though. And its ride quality has a supple firmness to it – which in Comfort mode isn't disconcerting.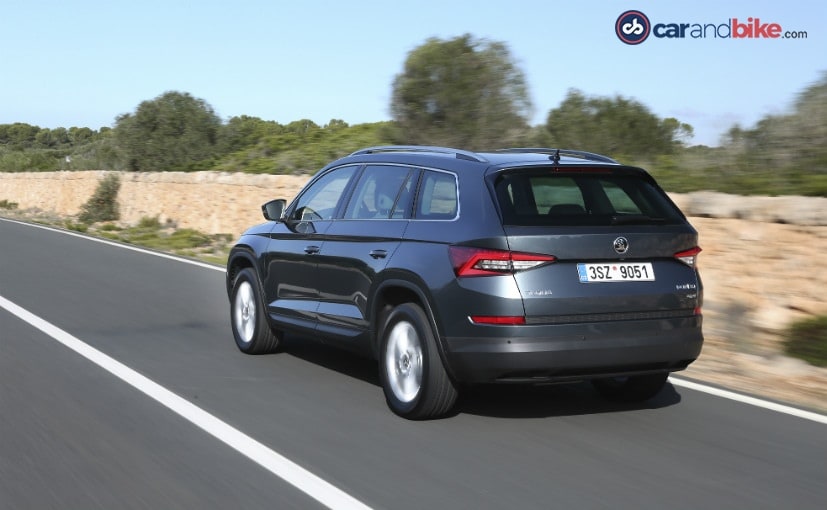 (Skoda Kodiaq Rear)
The car's USP in the Indian context though will come from its premium finish and cabin space. The 3-row seating is easy to access; quick to fold up or down, and Skoda has been very smart about its seating configurations. The 2nd row also slides on a rail – meaning you can offer some of its generous legroom to the 3rd row when needed. Clever indeed. The 3rd row is not terribly comfortable but with the extra legroom (and because Skoda chose not to go coupé-like on the roof there's ample headroom too) short journeys (even for full-sized adults) won't be so bad. Another neat little party trick is the false bottom on the cargo bay that accommodates the retractable parcel shelf mount. That way when you have the 3rd row of seats folded down, you can pull it out and create a luggage area cover/parcel tray. So in 5 or 7-seater configuration – it will seem like it was built only that way!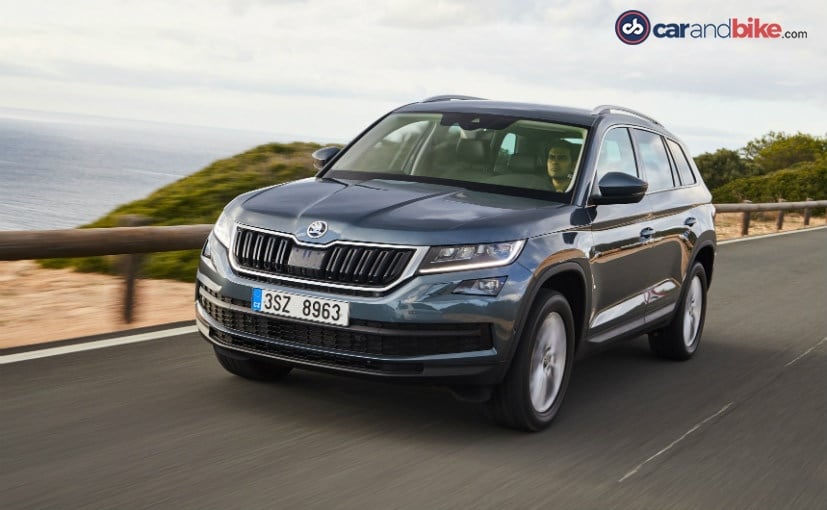 (The Skoda Kodiaq will only be launched in India around Diwali 2017 )
Now we come to the all-important angle of pricing. Skoda says the Kodiaq will settle in at about where the Superb tops off. So expect pricing to hover in the Rs 30-35 lakh band. Anything higher and Skoda would have lost the opportunity in my view. Frankly even 30 lakhs is too high but that's where the market is right now. The Fortuner is crude by comparison, but has more bulk and grunt. Its ladder-on-frame chassis (as well as the Endeavour's) will make for better off-road capability. The Tiguan, Santa Fe and Kodiaq though will be the urban SUVs – without much need for hard-core off-roading. In that context I believe the Kodiaq could position itself as the value player by offering great build, efficient yet dynamic performance, good equipment and lots of space at a reasonably good price. The Kodiaq only arrives around Diwali 2017 so it's a bit of a wait I'm afraid!
["source-ndtv"]