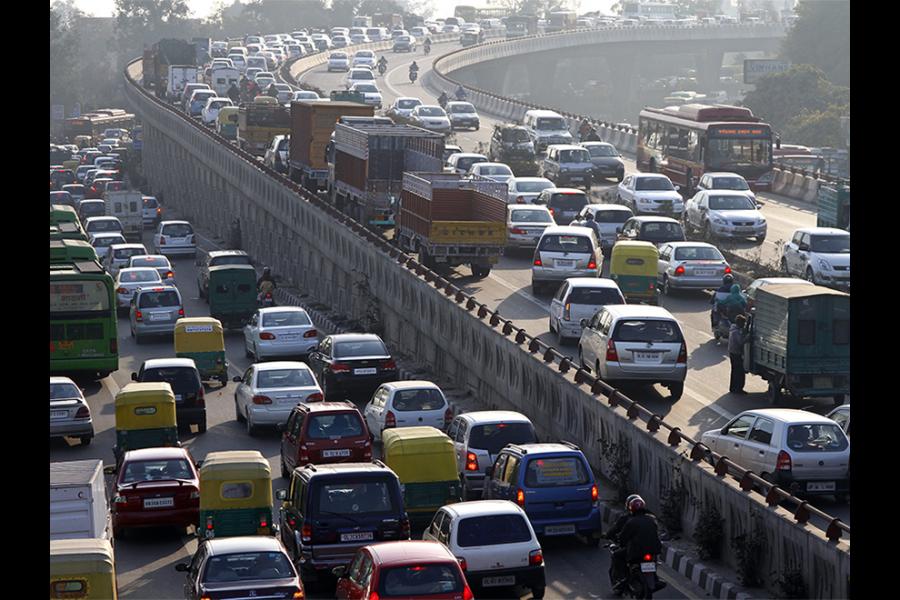 When Henry Ford unveiled the moving assembly line in 1913, it transformed the automotive industry. Over the last 100 years, the industry has been disrupted by many innovations—electronic control units (ECUs) in automobiles and their takeover of several human tasks, driverless car prototypes, and more recently, changes to the mobility paradigm with autonomous vehicles, ride sharing, shared business models, increased connectivity, and more.
With significant automotive sales, a very large user base, and an increasing appetite for innovative mobility, how can India play a disruptive role in the industry? The answers lie in the challenges of the present.
What is making the automotive industry lose sleep? The automotive revenue base is expected to expand drastically; between 2015 and 2030 it is projected to expand by 100% and grow to over $6 trillion. Research by McKinsey points out that most of this growth will not come from vehicle sales, but will be a result of new business models, such as shared mobility and services built around data and insights. The big question on everyone's mind is whether shared mobility revenue will overtake that of vehicle sales. By 2020, it is estimated that one in 10 cars will be used for shared mobility. So, automakers ponder the role they can play in this change, and how they can stay relevant.
Currently, there are several regulatory hurdles slowing down the adoption of innovations, such as self-driving cars, for instance. While traditional players can use the cushion of regulation to buy more time, this may not necessarily be wise. There is the very real risk of lagging behind in advancements and getting commercially overtaken
We have traditionally seen electric vehicles receiving an encouraging response from critics but not from consumers; adoption is still slow. However, Tesla and Faraday Future could excite consumers to wait in long queues to pre-order vehicles. Will vehicles like these eventually turn category killers? There is an imminent price drop but what factors will drive further adoption?
Another concern is that traditional adversarial roles are changing, and competitors are turning into collaborators. In this evolving scheme of things, automotive executives are having to rethink their role.
All these market dynamics are the basis for any disruption that might take place.
How innovation and disruption are manifesting in India
First, a lot of frugal innovation is seen in India in the form of localising global big ideas—be it swappable batteries for electric two-wheelers and auto rickshaws, ride-sharing concepts extended to all forms of transport, or augmented reality apps that try to replicate the capabilities of driver assistance systems, or connectivity options for heterogenous needs.
The second interesting facet of the Indian automotive landscape is that certain government regulations and schemes are helping the industry. While lithium-ion batteries are conventionally expensive, indigenously made Li-ion batteries will lower the cost of EVs. The 'Make in India' initiative can be encouraging in this regard. The 'Niti Aayog: India Leaps Ahead' program lays greater emphasis on electric transport. It will augment the FAME [Faster Adoption and Manufacturing of (Hybrid &) Electric Vehicles in India] scheme of the Indian government. State governments are embracing alternative fuel technologies and providing incentives to people to adopt EV vehicles.
The Indian automobile industry is moving from Bharat Stage IV to Bharat Stage VI (skipping Bharat Stage V), and is gearing up to meet new emission standards. The need to comply with these higher emission norms is driving advanced engineering and innovation at a component or system level. Another instance is the Ministry of Road Transport and Highways making it mandatory to have an emergency button and vehicle tracking system (VTS) in all public transportation vehicles—these standards are calling for advanced specifications. So, while regulation is typically seen as a bottleneck, in India it is helping to spur further innovation. But are we doing enough?
An Indian Approach 
We are seeing some original ideas, methods, and products in automotive technology being incubated in India. A leading automobile manufacturer has announced its EV 2.0 platform roadmap for electric vehicles. This is a wholly Indian approach to crack the battery challenge. The key projects in this roadmap include a heavy, high-capacity Li-ion battery with a very high range of almost 400km, and new power trains that could achieve a top speed of 150-200 kmph.
While millions of dollars are being spent worldwide on image processing algorithms in vehicles, an app has been developed for driving safety—the 'iOnRoad' augmented reality app can do most of the work that Advanced Driver Assistance Systems (ADAS) do. One can just move one's phone to the center of the dashboard and the app performs terrestrial detection and other functions with 80-90% accuracy, like an algorithm would. The current wisdom in America or Europe is that an approach like this would never work, so this completely Indian method is promising with its expected effectiveness.
Paving the way for innovative indigenously developed vehicles, the Automotive Research Association of India (ARAI) has worked with a software and technology company to develop the prototype of India's first autonomous car. The pilot project was successfully demonstrated early this year. Bikes, too, will see a new avatar with in-built GPS and music systems integrated in upcoming models.
The other move that is fueling innovation is a collaborative approach rather than a competitive approach that includes non-traditional players. Three Indian auto giants—conventionally competitors—are coming together to build an electric bus. Similarly, big IT companies are now entering the mobility space through their software and platforms.
What the Indian industry can do
India is poised to introduce impactful innovations in this landscape, by realigning the approach taken. We need to stop thinking only in terms of frugal innovation and instead, conceptualise ideas, which can really disrupt the market.
Further, Indian business models are trying to extract a service in most cases. We need to move from a service-based approach to a product-based business model. Until it is predominantly product-based, it can't really disrupt the industry.
And finally, it's time we relooked at the direction of new solutions. Most often, we adopt technologies and products developed for other markets and make them our own. India brings an enormous scale, in terms of the number of vehicles on the road, or number of people who will use an app or solution. India's challenges require scale to be a part of the solution. Logically, any product that is designed for this scale is in a better position to be adopted by the rest of the world, than the other way around.
I truly believe that we can orient our automotive industry and ecosystem along these pillars to come up with some disruptive solutions for the international industry, and be the site for the global idea and execution pipeline of our century.
["Source-timesofindia"]