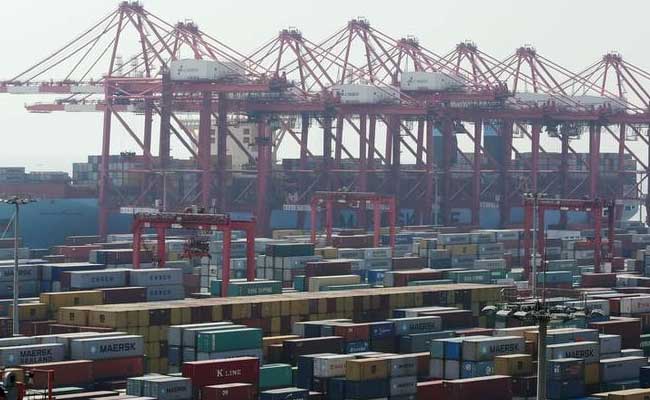 Imports rose 21.76% to $33.39 billion, the Commerce Ministry said.
New Delhi: Exports from India rose in February for the sixth straight month, helped by a pick-up in engineering sales despite fears of protectionist and anti-trade sentiment in the United States and Europe.
Merchandise exports grew 17.48 per cent year-on-year to $24.49 billion last month while imports rose 21.76 per cent to $33.39 billion, the Ministry of Commerce and Industry said in a statement.
Ahead of the G20 finance ministers meeting this week in Germany, the International Monetary Fund has called on the Group of 20 major economies, including India, to work together to preserve the benefits of trade and avoid protectionism.
India, the world's third-largest steel producer, has also raised import tax on steel and set a floor price to protect local mills – a measure challenged by Japan.
Japan has asked the World Trade Organisation to set up a dispute settlement panel to examine India's duties on steel imports which it says are violating WTO rules.
Foreign trade deficit narrowed to $8.9 billion in February from a provisional $9.84 billion the previous month, government data showed on Wednesday.
The deficit fell nearly $20 billion in 2015-16 as the cost of oil imports halved thanked to a slide in prices, a trade windfall to Prime Minister Narendra Modi's government.
India exported $245.4 billion of goods in the first 11 months of the current fiscal year ending in March, up 2.5 per cent from a year ago, while imports fell 3.7 per cent during the same period to $340.7 billion, leaving a deficit of $95.3 billion.
Iron and steel imports declined 14.2 per cent in February to $6.3 billion from a year ago, while engineering products exports grew 47.3 per cent to $6.6 billion in the same period.
Lawmakers have suggested to the Finance Minister Arun Jaitley to introduce tariff barriers on raw materials for a broad range of products in addition to duties on steel imports.
The government has not set a target for exports in 2016-17, underlining the uncertain global outlook and fears of rising US protectionism.
The IMF, however, expects that India's merchandise exports next fiscal year could grow near 10 per cent to $301 billion while imports could grow 11.3 per cent to near $454 billion.
The Fund expects India to remain one of the fastest growing emerging market economies – likely to grow at 6.6 per cent in the current fiscal year ending March and 7.2 per cent next fiscal year.
["source-ndtv"]