The Google Pixel event is the Mountain View company's biggest launch of the year, where it is anticipated to unveiled its latest hardware offerings. In case you haven't been keeping track, you may ask, "When is the Google event?" Well, the Google Pixel event time is 9:00am PT (9:30pm IST) on Tuesday, and Gadgets 360 will be covering the event live from San Francisco – so stay tuned.
So, what should you expect from Google's October 4 event? As Gadgets 360 reported back in August, Google this year has a very different game plan to promote its Android mobile platform. The company has set up a unified hardware division under the former President of Motorola Mobility, Rick Osterloh, and the fruits of that labour are due to be unveiled.
Google is doing away with the value-for-money Nexus lineup, and is instead looking to offer a premium lineup of smartphones that will compete head-on with Apple's iPhone series – with the aim of enjoying the same highly-desirable status in the market. Innumerable leaks since have corroborated our report, with Google anticipated to launch its Pixel series of smartphones with two offerings – the Google Pixeland Google Pixel XL.
Of course, the Google October 4 event will see the launch of more than just the Pixel and Pixel XL smartphones. The search giant is expected to launch its Google Home smart speaker – a competitor to the Amazon Echo – that was unveiled at Google I/O 2016 will be powered by Google Assistant, the company's re-branded voice-based virtual assistant that will replace Google Now. Alongside, other products are also rumoured, such as the Google Chromecast Ultra – a 4K video dongle – apart from the Google Wi-Fi smart router, which is said to be the next iteration of the OnHub router. The Daydream VRplatform that was unveiled at Google I/O this year is also expected to make an appearance, with its first hardware – the Daydream VR headset – due to be launched.
All of these hardware products have received their fair share of leaks in the past few months, revealing several details. On the software front, Google is also anticipated to unveil what's internally said to be called Andromeda OS, the long-rumoured and oft-denied merger between Android and Chrome OS – the company's Chrome-based operating system for laptops and PCs. This merger is thought to be what Hiroshi Lockheimer (SVP of Android, Chrome, and Google Play) was hinting at with this cryptic tweet that Google's October 4 event is going to be as significant as Android's launch 8 years ago. While the first hardware to run the merger, which would finally bring Android to the PC category, isn't expected at the event – a developer preview is anticipated at the Google Pixel event.
Google Pixel and Pixel XL smartphones
Coming back to the Google Pixel phones – as we mentioned, a lot is already known about them, and,thanks to leaks by UK retailer Carphone Warehouse and two Canadian carriers, we not only know what they will look like, but also their near-complete specifications. Since then, Verizon also briefly listed the smartphones, revealing even more details. Both smartphones appear to be identical in design, with only size separating them.
Both Google Pixel and Pixel XL will run on Android 7.1 Nougat at launch, and come with the already leaked Pixel Launcher – the differentiation that Google CEO Sundar Pichai is thought to be referring when he said this year's Nexus lineup would be Google's opportunity to be more "opinionated" with its offerings. They have been spotted in Black and White colour variants, with another rumour pointing towards a third Gold offering as well. Live Cases (seen below) are also anticipated, using imagery from Google Earth and Google Trends.
The Google Pixel is expected to sport a 5-inch full-HD (1080×1920 pixels) Amoled display with a pixel density of 441ppi, and Corning's Gorilla Glass 4 for protection. It is said to be powered by a 2.15GHz quad-core Snapdragon 821 SoC with 4GB of RAM. The Google Pixel is listed with a 2770mAh battery.
The Google Pixel XL on the other hand is set to feature a 5.5-inch Quad HD (1440×2560 pixels) display with a pixel density of 534ppi and once again bearing Corning Gorilla Glass 4 for protection. Once again, it's said to be powered by a 2.15GHz Snapdragon 821 SoC coupled with 4GB of RAM. The Google Pixel XL is said to come with a 3450mAh battery.
Both the Google Pixel and Pixel XL were seen to come in 32GB and 128GB built-in storage variants, and notably, microSD card slots were also listed – though expandable storage seems unlikely if one considers none of the Nexus smartphones bore this feature. Both the Google Pixel and Pixel XL are also set to feature a 12-megapixel rear camera and an 8-megapixel front camera complete with optical image stabilisation. A feature called Smartburst is also rumoured, similar to Apple's Live Photos. The smartphones are also said to sport fingerprint sensors on the rear panel.
As for software features, the Google Pixel and Google Pixel XL smartphones will come bundled with the Pixel Launcher, the Google Assistant, Google Allo, and Google Duo apart from the regular Google apps. The smartphones will also come with unlimited photo backups at full resolution via Google Photos. As for pricing – the Google Pixel is expected to start from $649 (roughly Rs. 43,200).
Coming to the most recent leak, the Verizon listing of the smartphones, we learn that Google may introduce a Blue colour variant as well. The Google Pixel and Pixel XL phones are also listed to feature something called 'Google Magic', and while this may just be marketing jargon signifying the Google touch, it could also be a new feature.
Google Home, Google Wi-Fi, Chromecast Ultra, and Daydream VR headset
Details on these fronts are a little scarcer. The Google Home smart speaker (seen above), the Google Assistant-powered rival to the Alexa-powered Amazon Echo, is expected to be priced at $129 (roughly Rs. 8,500). That's $40 cheaper than the Amazon Echo. It is expected to be the central hub of home automation, with compatibility for IoT products like Samsung's SmartThings, and other third-party devices. A single Google Home app is also expected to be released, similar to Apple's Home app, which will control all compatible home automation and IoT products from a single point, apart from controlling all Google Cast devices.
As for the 4K Chromecast Ultra dongle (seen below), it's said to be nearly identical to the current Chromecast 2 dongle, but feature the new Google 'G' logo and do away with the Chrome logo seen on the present iteration. Apart from supporting 4K streaming capabilities, it is anticipated to also support HDR. It's said to be priced at $69 (roughly Rs. 4,600), and also sport a hardware on/off button.
Coming to Google Wi-Fi or Google WiFi (the naming is a bit unclear at this point), it is said to be smart router like the Google OnHub, but also create a unified network unlike the previous offering. A "mesh" or "modular" technology is also expected to be incorporated, allowing the network to expanded over a great area. It is also said to be priced at $129 (roughly Rs. 8,500).
Finally, we come to the Daydream VR headset (seen below), which is expected to launch alongside a wireless motion-based controller unveiled at Google I/O. Like the more basic Google Cardboard, the Daydream VR headset will be powered by the smartphone, and not sport any sensors on board.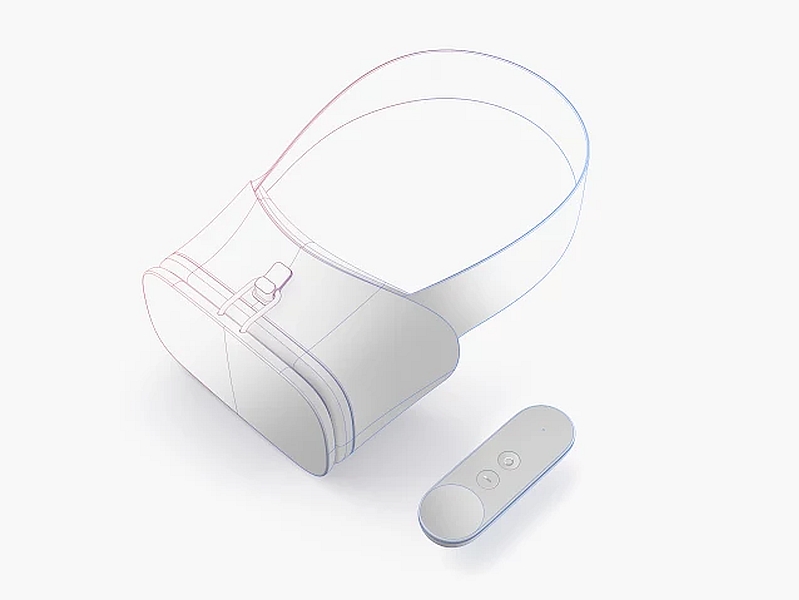 A much more polished effort without any of the flimsiness associated with Cardboard, it will work only with Daydream ready smartphones running on Android Nougat, optimised for minimal latency and higher refresh rates. It is said to be priced at $80 (roughly Rs. 5,300).
["source-ndtv"]