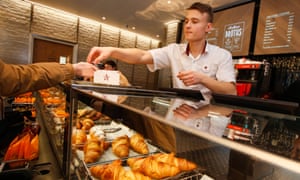 Britain's blueprint for a post-Brexit immigration policy, outlined in leaked Home Office documents, would be "catastrophic" for some industries, employers have warned.
European Union nationals make up about 7% of the overall UK workforce – about 2.2 million workers – with some sub-sectors of the economy reliant on migrants, official figures show. EU workers constitute more than 20% of the labour force in at least 18 specialist industries, according to a GMB study of Office for National Statistics figures.
The hotels, retail and hospitality industry, which draws about 9% of its workforce from the EU but is far more reliant for lower-paid jobs than the headline figure might suggest, stands to lose out from the reforms, said Ufi Ibrahim, chief executive of the British Hospitality Association.
"If these proposals are implemented it could be catastrophic for the UK hospitality industry," she said.
Hotels, restaurants and other hospitality firms need at least 60,000 new EU service workers a year to fill vacancies, according to research for the BHA by accountancy firm KPMG. EU nationals make up about 75% of waiters, 25% of chefs and 37% of housekeepers.
The leaked Home Office document proposes offering EU migrants residency for a maximum of only two years, in a policy designed to drive down numbers. Those in "high-skilled occupations" will be granted permits to work for a longer period of three to five years.
Food and drinks manufacturers said the leaked proposals were alarming. "If this does represent the government's thinking it shows a deep lack of understanding of the vital contribution that EU migrant workers make – at all skill levels – across the food chain," said Ian Wright, director general of the Food and Drink Federation.
Tim Thomas, director of employment and skills at the EEF, said: "The proposals represent a mixed bag. On the highly skilled side, the system described is one we can work with, after some changes. But, we would have grave concerns that at lower skill levels accessing EU workers will be on a completely different basis."
He also warned that overseas may no longer want to come to work in the UK: "The question, currently unanswered, is whether workers other than the highly-skilled, will still want to come to the UK on the basis there's no family reunion, no pathway to ever settling here, and where their stay is limited to two years.
The CBI, which speaks for 190,000 businesses that employ 7 million people, said it was essential to keep an open approach to hiring staff from the EU so that overseas firms carried on investing in the UK and to ensure jobs could be filled.
Neil Carberry, the group's managing director for people and infrastructure, said: "An open approach to our closest trading partners is vital for business, as it attracts investment to the UK. And, with employment high, it also helps keep our economy moving by addressing key skill and labour shortages."
He added that the government's final position paper should support "an open but managed approach to immigration".
The Institute of Directors said business leaders would not welcome the approach outlined in the leaked documents and its members would be hoping for changes in the government's final position.
Seamus Nevin, head of employment and skills at the IoD, said immigration rules should be clear and simple. "The UK needs an immigration system which provides control while also enabling employers to access the foreign workers they need at all levels – whether it be short term seasonal workers, intra company transfers or permanent positions," he added.
The EU referendum a year ago and Britain's increasingly hostile stance to European workers is already having an effect on employment figures. There was a 1.1% drop in the number of workers from eight eastern European countries to 997,000 in the three months to June from the same period a year ago, according to figures from the ONS.
The rate of new arrivals from the EU is also slowing. Between April and June 2016, and the same three months of 2017, the number of non-UK nationals from the EU working in Britain rose by 126,000 to 2.37 million. In the previous year, there had been an increase of 242,000.
The slowdown in EU workers coming to Britain could ultimately contribute to lower unemployment and potentially push up wages, although industry bodies warn the exodus is likelier to damage the economy. Vince Cable, the Liberal Democrat leader, said old Home Office studies showed little impact on wages or employment.
"Overwhelmingly it has been the case that overseas workers have been complementary rather than competitive to British workers," he said.
Manufacturing industry body the EEF found a quarter of firms in the sector – which draws about 11% of the workforce from the EU – reported a fall in applications from European nationals last week. Three-quarters of manufacturers say they are struggling to fill roles, while a third said they recruit EU nationals because the skills are not available in the UK workforce.
The EEF's Tim Thomas said: "Skills shortages are endemic in manufacturing and engineering, and any points based-type system would choke off the skills needed by this sector."
["Source-timesofindia"]