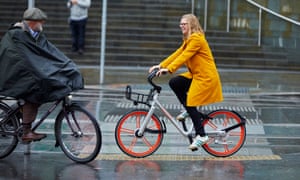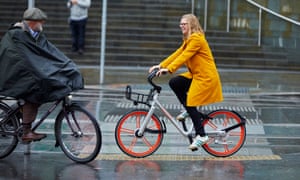 I was sceptical about Manchester's new hire bikes, fearing they would all end up at the bottom of the Ship Canal.
Yet just a week after Chinese firm Mobike plonked 1,000 silver and orange two-wheelers on the streets of Manchester and Salford, I'm already a convert. Yes, there have been a few glitches with the app (you're supposed to be able to reserve a bike for 15 minutes but I haven't been able to for a few days), and I've no idea what those messages say that they've sent me in Chinese. But Mobikes are significantly better than London's hire bikes, or any I've tried in other cities across the world. Here's why:
1 You can leave them anywhere
There are no docking stations, so you can just park your Mobike at your destination, whether that's outside your house, the pub, the cinema, the station. The other day I merrily left one in the Northern Quarter, a part of the city I have avoided by bike since mine got stolen there earlier in the year. In London I've had many infuriating experiences — notably, cycling to Euston on a Boris Bike to catch a train, only to discover the nearest docking station (which is still five minutes walk away from the platforms) is full. Not a problem with Mobikes. You can leave them anywhere within the boundaries of Manchester and Salford, as long as you park them somewhere public that doesn't obstruct the road or pavement.
2 They're cheap
At 50p per half hour, the pricing is low enough that you feel it's worth a quick spin, even just a five-minute ride that would have taken 20 to walk. In London, it costs £2 for a day pass, which allows unlimited rides of 30 minutes or less. But often when I'm down in the capital I just want to do one quick ride, and £2 feels a bit much, when it's only £1.50 to take the bus. It's significantly more expensive in other cities: a 24-hour pass for a B-bike in Austin, Texas, costs $12 (£9.30). A Vélib in Paris is €1.70 (£1.50).
3 They're fun to ride
Yes, the single gear is pretty low, so you'll be pedalling like billy-o if you're in a rush. And the airless tyres do make for a slightly bone-shaking ride, especially on cobbles. But they're much nippier than the London tanks, and lighter too. The jury is out on whether they really are indestructible, as the designers claim. There are doubtless some Manc reprobates who will do their best to prove the Chinese wrong.
4 The system rewards good behaviour
It remains to be seen whether the fleet will all get trashed or nicked, but built into Mobike's operation is a points system which rewards chivalry and punishes selfishness and anti social behaviour. All users start with 100 credits. If you end up on zero you are barred from using the bikes. Being a tell-tale pays. If you dob someone in for parking "wrongly" (ie in the middle of the road or in their front garden, like this one I spotted in Old Trafford), you get an extra credit. You lose 20 credits if you park it somewhere inaccessible to the public, 15 if you forget to lock it, 100 if you abandon one after being stopped by the police. Attach your own personal lock or break the law on one and you'll be on a big fat zero. In future, you may be able to earn free rides if you spot a bike parked somewhere silly and ride it back into the centre of town.
5 They aren't a massive drain on public funds
Don't get me wrong, I am all for diverting a lot more of the transport budget towards cycling. But the London scheme has cost £60m of public money since it launched in 2010, and is still subsidised to the tune of £3.6m each year. Mobike costs Manchester and Salford city councils diddly squat. They hope the bikes will save them money, because Mobike has promised to share with them data showing where the bikes are most commonly ridden, which should help them plan future cycle infrastructure. On which note: please sort out the canal and Irwell-side routes, Transport for Greater Manchester. Last night I really struggled to lug a Mobike up the steps to Regent Road when the riverside bike route suddenly stopped.
Of course, they are not perfect. If Mobike are reading this please consider:
Bigger bikes for taller riders. The saddles on the current crop won't go high enough for anyone much over six foot.
Bigger, better baskets that can hold a supermarket bag of shopping without everything falling through the gaps.
[Source"indianexpress"]