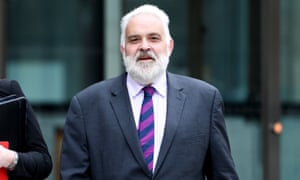 The financial ombudsman service has admitted it was wrong to rule that a widow should repay her dead husband's business loan within 12 to 18 months after it found the loan should never have been made in the first place.
The banking royal commission heard the case of 62-year-old Jennifer Low, who was chased by Suncorp over five business loans totalling $1m after her husband had died.
The Low family only discovered Suncorp had made the loans to Peter Low and his wife, who was not involved in the finances, after the 63-year-old blasting contractor had died in a 2015 workplace accident.
Suncorp was demanding Low repay the last of the loans, worth $226,000, within six months. When Low complained to the ombudsman service, it found Suncorp had made the last loan irresponsibly so no interest should be paid on it.
But when Low proposed to repay the $226,000 over the loan's existing 17-year term, rather than Suncorp's preferred six months, FOS declined her proposal. It said it would be reasonable to repay the loan within 12 to 18 months, or five years at most.
On Monday Philip Field, lead ombudsman for banking and finance at the service, told the royal commission he regretted making the ruling.
He said he was initially concerned about Low's proposal to repay the loan over 17 years because it would mean she'd be making repayments until she was 80, but on reflection that was wrong.
"In hindsight, I don't think that was the right thing to do," he said.
The Low family has not yet accepted Suncorp's final offer of a five-year period.
Field said he would expect Suncorp to change its position and let Low make regular principal-only repayments over the life of the loan. The family home was sold to pay off the first four loans.
The commission also heard the story of a couple who lost their New South Wales pub despite making all the loan payments to Bankwest on time.
Stephen Weller and his wife bought the Nambucca Hotel in 2005, then bought out their business partner in 2008 using a 15-year business loan from Bankwest.
Mr Weller said there was a downturn in revenue in 2010 after the global financial crisis, but they always made the loan repayments.
The royal commission heard the bank changed the loan terms over the next couple of years and issued breaches of non-monetary conditions of the loan.
Weller said Bankwest told him in December 2012 it would not roll over the loans when the facilities expired in January. He said the loan payments had always been on time, but the bank issued a deed of forbearance and the couple were told to sell the hotel.
After difficulties with that process, receivers were appointed in July 2014 and the hotel was sold.
["Source-timesofindia"]