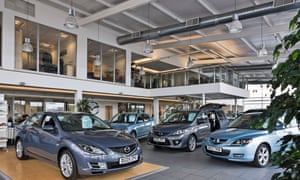 Households in the UK are increasingly relying on borrowed money with one in four people seeking a loan applying for at least half of their annual income, according to new figures that will add to worries about Britain's mounting personal debt burden.
The latest evidence of a rise in borrowing to fund new car purchases, holidays and to help clear older debts follows a stark warning from the Bank of England that lenders offering money on easy terms risked sparking a fresh financial crisis. Banks, credit card companies and car loan providers could be dicing with a "spiral of complacency", the Bank's director for financial stability said on Monday.
To analyse the rise in demand for debt, price comparison company MoneySuperMarket looked at 3m loan inquiries made on its site from January 2015 to March 2017 and found the average sum sought had increased by 3.5% in that time. It was now around £8,958, compared with £8,650 in 2015.
The site found car and wedding loan values had increased by 6.6% and 8.4%, respectively.
More than a quarter (28%) of inquiries were for loans that were equal to at least half of the person's annual income. Almost 10% of personal loan inquiries were from people hoping to borrow more than their annual income. Typically, those people wanted to borrow 131% of their earnings, the equivalent to an average £5,058 above their annual salary of £16,360.
The analysis named Corby in the east Midlands as Britain's personal loans capital with borrowers there making more personal loan inquires than any other place in the UK. There were 75.5 inquiries per 1,000 residents, which was 47% higher than the UK average.
Those in Halton in north-west England made the second highest number of inquiries, followed by Flintshire in Wales, Knowsley near Liverpool and Falkirk in Scotland. Londoners made the fewest inquiries, according to the MoneySuperMarket figures.
The site said the most popular reason cited for taking out a loan was to buy a car. These made up 38% of inquiries. Consolidating personal debts was the second most common reason, accounting for 24% of all searches.
Borrowers looking to improve their home made up a fifth of personal loan searches, hoping to take out £10,357 on average. Holidaymakers accounted for 3% of searches. Those looking for a loan to fund their wedding made up just under 3% and typically hoped to borrow £7,461 – an 8.4% rise from 2015.
The Bank of England has intensified its warnings about household debts over recent months while keeping interest rates at a record low of 0.25%.
Bank director Alex Brazier used his speech on Monday night to highlight a rise in household borrowing on credit cards, via car purchase schemes and using personal loans.
Over the past year, household incomes have grown by just 1.5% but outstanding car loans, credit card balances and personal loans have risen by 10%, he said. He highlighted the rapid rise in personal contract purchase PCP plans – under which a car is in effect leased. Over the last decade, the number of cars bought this way has increased from one in five to four in five, Brazier said.
Anti-poverty campaigners have warned that households are also turning to loans to make ends meet as the cost of living rises faster than wages.
An analysis by the TUC in May warned that borrowing to top up wages was poised to breach the record levels hit just before the financial crisis of a decade ago. The trades union group found the average unsecured debt per household – which excludes mortgages – stood at £13,200 last year, only £100 below the record reached in 2007.