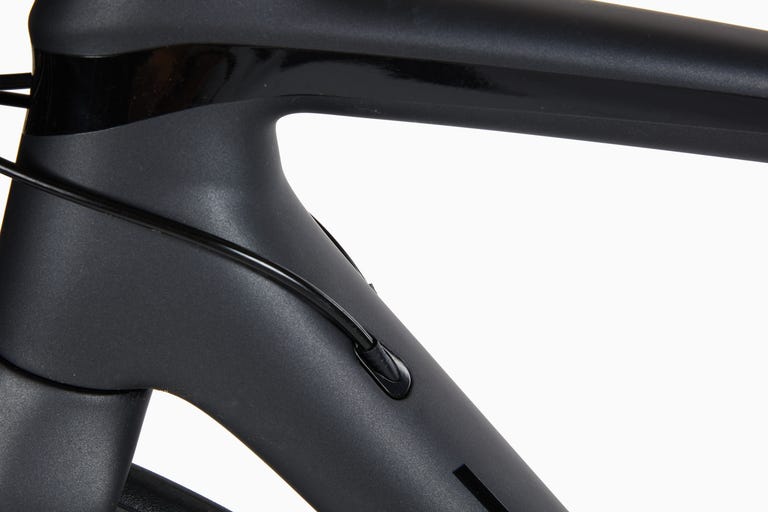 The Trek Émonda SL 5 Women's is a lightweight carbon bike with an aggressive racey feel and women's-specific touchpoints, like a smaller handlebar and crank and a women's saddle. The bike is a solid choice for fondos, road races, or just hanging with the front pack on a tough group ride.
Meet the Émonda Family
The Émonda is the lightweight all-arounder in Trek's stable of road bikes (the Domane is the more endurance-oriented, gravel-friendly build; the Madone is the aero race model). When Trek introduced the bike in 2014, the company claimed it was the lightest production frame in the world. The SL5 is the most entry-level carbon model in the Émonda family; the $2,700 Émonda SL6 adds an Ultegra drivetrain, the $3,000 Émonda SL6 Disc includes disc brakes, and the $3,500 Émonda SL6 Pro includes Aeolus Pro 3 carbon wheels. The range tops out at the $11,000 Émonda SLR 9 Disc eTap, which has an electronic drivetrain and the highest-end carbon wheelset available.
A Fast Women's Bike for the Price
The women's Émonda SL 5 has the same geometry and performance features as the men's version, but with a smaller crank and Bontrager X handlebar and a women's saddle. The 500 Series OCLV carbon frame and fork keep the bike light, and a full set of Shimano 105 components come at a solid value. The bike has tubeless-ready wheels, rim brakes, and also a no-cut seatmast, which Trek claims makes the bike more compliant. Also included are Bontrager's Blendr accessory mounts for clean integration of computer and lights into your cockpit.

When the Trek Émonda arrived, I had spent the past eight exhausting weeks caring for a newborn. I had more time rocking a Baby Björn than I had riding my bike. But this bike, with its murdered-out paint, lightweight carbon frame, and low and racey stance looked like just what I needed to offset eight weeks of baby-inflicted inertia.
Miraculously freed of my responsibilities at home, I took to the eastern Pennsylvania hills with the Émonda SL 5—and a vengeance. The Émonda is the all-arounder in Trek's road-bike stable. It's a lightweight bike made for climbing, road races, and fast—really fast—rides with friends. The women's version has a smaller handlebar, shorter crank, and women's saddle but the same frame and geometry as the men's version.
["Source-gsmarena"]