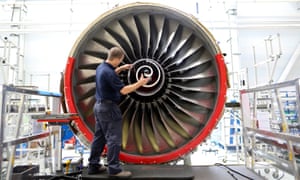 Britain's aerospace exporters will warn parliament on Monday of a crippling £1.5bn-a-year headwind if ministers fail to agree urgent new customs and regulatory deals with the EU.
Adding to pressure for the government to come clean about its long-term Brexitstrategy, the industry will also provide written evidence to the Commons business select committee that the uncertainty is already forcing it to look at moving jobs abroad.
A letter to the committee from Boeing says the industry needs clarity by the "first quarter of next year at the latest" or business and consumer interests across Europe will suffer.
"Around £10bn of the aerospace sector's annual exports are destined for the EU," writes ADS, a trade group that represents more than 1,000 UK businesses. "However, increased checks at the border [if customs processes do not remain harmonised] could result in a potential £1.5bn of added costs for the UK aerospace sector."
It follows similar warnings last week from car manufacturers, who said that the return of customs barriers would devastate their delicate, just-in-time supply chains. Honda UK told MPs it relies on 350 lorries a day being able to make smooth passage across the English Channel to supply about 2m daily components to its Swindon factory, with just an hour's worth of supply to spare.
The aerospace industry is expected to go one step further when it provides evidence to the committeeon Tuesday, pointing out that the Airbus A380, for example, has some 4m components produced by 1,500 companies from 30 countries, with many parts crossing borders multiple times. The industry claims it has a similar reliance on just-in-time, lean manufacturing techniques."The evidence we have received suggests the impact of Brexit and increased customs checks could mean a potential £1.5bn in added costs for the UK aerospace sector," said Rachel Reeves, chair of the select committee. "That is extremely worrying and risks making our aerospace industry less competitive and driving up costs at a crucial time for our economy."
The government claims it can still replicate all the benefits of EU customs harmonisation after Brexit, but this has been met with widespread scepticismin Brussels, which is refusing to discuss future relations until the UK agrees to settle an estimated €60bn (£53bn) divorce bill.
Even pro-Brexit ministers like Michael Gove and Boris Johnson are now reported to be pressing the prime minister for urgent cabinet talks about how Britain intends to handle the next stage of negotiations before it agrees to pay.
But the aerospace industry is among many warning that time is already running out and that "uncertainty over its status is starting to have an impact on contingency planning and investment". Submissions to the business select committee point to the end of 2017 or early 2018 as a crucial date by which more certainty is needed, particularly over continued participation in the European Aviation Safety Agency (Easa).
"Without clarity on a transition deal by the end of 2017, ADS members will begin executing their contingency plans, which range from setting up EU27-based operations to applying to Easa for third-country certification," the new evidence to the business committee said.
Several submissions also question whether the two-year transition period proposed by the UK would be sufficient for aerospace, citing the length of time needed to invest in new border infrastructure and set up new customs arrangements.
"The extra costs could have a negative impact on future investment decisions," added Reeves. "After the evidence from car manufacturers last week which pointed to serious risks to prices and production, our committee is keen to hear from the industry what it wants from the government to ease their uncertainties and ensure the smoothest possible transition as we leave the EU."
The government insists it is possible to use technology and customs cooperation agreements with Europe to minimise the impact of new borders on business.
"The UK wants a customs arrangement with the EU that facilitates the freest and most frictionless trade in goods possible," the chancellor, Philip Hammond, wrote in the forward to its recent customs white paper.
Source:-.theguardian