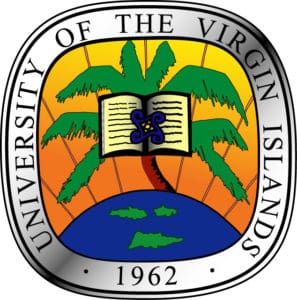 University of the Virgin Islands (UVI) students of the Business Strategy class of Spring 2018 achieved a first-place ranking in the Global Top 100. The students earned the top position on Global Top 100 ranking for their company's Business Strategy Game (BSG) performance during the week of April 2 – April 8.
The students' company, Future Kicks, tied for first place with 20 other teams out of a total of over 13,500 playing the simulation. Co-managing the company were Joash Liburd, Kriston Petty and Brenton Skeete.
The student-run company secured its top position by having attained an overall score of 110.0 to tie for the best overall score performance of the week, worldwide. Each Monday, The Business Game Strategy compiles lists of the prior week's best-performing companies worldwide based on each of four measures: overall score (current year), earnings per share, return on average equity and stock price.
Future Kicks earned a Global Top 100 ranking having met and excelled the performance criteria. The company's achievement of an Earnings Per Share (EPS) of $21.70 was the 48th best EPS performance of the week. Their Return on Average Equity (ROE) of 37.1 percent tied for the 94th best ROE performance of the week while their Stock Price of $369.86 was the 61st best Stock Price performance of the week.
"Making the Global Top 100 out of the approximately 13,500 teams competing is a clear demonstration of the good strategic business sense of our exiting UVI business students," said Glenn Metts, Ph.D. Liburd, Petty and Skeete graduated from UVI in May 2018.
The Business Strategy Game is a simulation game in which competitors manage a public company (similar to NIKE) that is in the footwear industry. Over the last 12 months, The Business Strategy Game has been used by 50,582 students in 2,801 classes/sections at 527 college/university campus locations in 52 different countries.
"At UVI in my BUS 436 Business Strategy class I have had students involved in the competition each semester since fall 2009. Students play the game for 12 weeks in the course and compete against the world," said Metts.
"Although I have a team every semester place in the Top 100 globally, this last semester is the first time that I had a team tied for first place. This is an amazing accomplishment for a small school like UVI," said Metts.
Metts is a professor of management and entrepreneurship in the School of Business at UVI. His research interests include strategy, adaptive decision making, business performance, entrepreneurship and management.
["Source-stthomassource"]