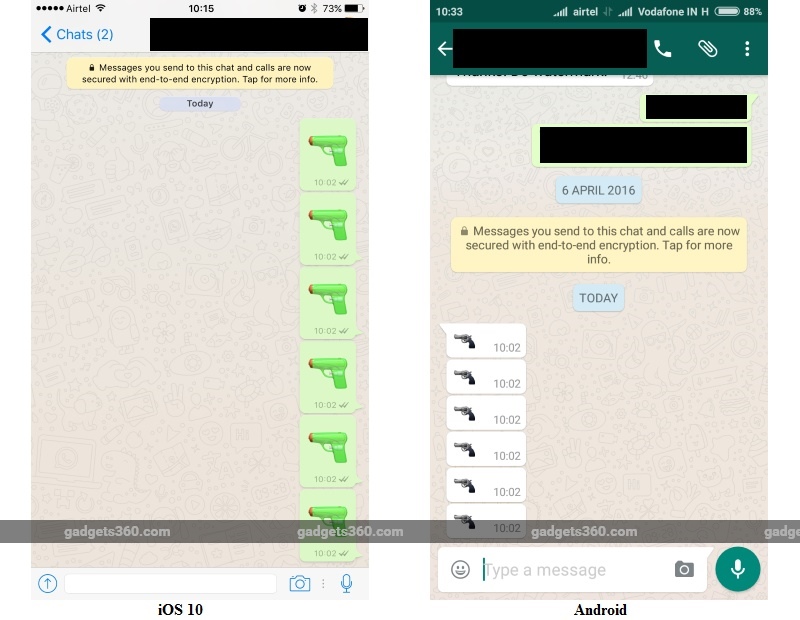 Gun control measures have stalled in the legislature repeatedly. But there does appear to be one place where gun control is catching on: the ever-more-political world of emoji.
On Monday, Apple announced that the next update to its emoji catalog would style the "gun" icon as a toy, rather than a pistol. That follows the recent, unusual decision by the Unicode Consortium, the tech industry group that approves emoji, not to include glyphs of a rifle and a man shooting a pistol in its next release.
"If guns are to be controlled, then they need to be marginalized, not mainstreamed," said Gill Marshall-Andrews, the head of the UK's Gun Control Network and one of many advocates cheering the disarmament of emoji. "I think it's a good move to take them away … It's a small step, but it says something."
Marshall-Andrew's group, the oldest in the UK, is one of two major gun-control organizations to make emoji an issue of late. Last year, the group's charitable arm, Infer Trust, condemned two characters that were proposed to the Unicode Consortium ahead of the 2016 Olympic Games: one, a rifle, was meant to signify "marksmanship, sport shooting, hunting," according to its proposal; the other, which included a man shooting a rifle, depicted the "modern pentathlon."
Speaking to the BBC in October 2015, a representative of Infer Trust called the characters "offensive" to victims of gun violence. (Neither was approved for use as emoji by the Unicode Consortium.)
Meanwhile, in the US, the nonprofit New Yorkers Against Gun Violence has spent the past year waging a high-profile PR campaign against Apple's pistol emoji. The campaign, called #DisarmTheiPhone, urged Apple to nix or redesign the icon in order to draw attention to the toll of gun violence and continued legislative inaction. While Apple has declined to release any statement on its new pistol emoji design, making it unclear what prompted it, NYAGV has already taken some credit.
"We welcome Apple's decision to dump the pistol emoji," the organization's executive director, Leah Gunn Barrett, said in a statement. "We believe that Apple, a socially progressive company, was influenced not only by our campaign last summer but also by the horrendous toll gun violence continues to take on American society, with over 33,000 dead and 84,000 maimed each year at a cost of $229 billion (roughly Rs. 15,30,903 crores)."
And yet – unsurprisingly – not everyone is happy to see Apple involve itself in the great gun control debate. At Business Insider, the tech reporter Rob Price argued that one company's unilateral decision to change the meaning of an emoji constituted a "terrifying abuse of power" that could confuse, and even endanger, its users.
Jeremy Burge, the founder of Emojipedia and an expert on emoji use, is similarly concerned that the change will prompt miscommunications between people using Apple's emoji keyboards … and those using Samsung, Google, Facebook and Twitter's. (Notably, police have arrested several people based on nothing but their emoji use.)
"Is this not endangering iOS users if they send a water gun emoji for fun in a tweet which is seen as a gun by everyone else?" Burge said. "Some emojis are strange, perhaps inappropriate, but they are there for legacy reasons."
The National Rifle Association did not immediately respond to a request for comment, but we can't imagine they're particularly pleased, either. Followers of the account @NRANews erupted in a frenzy of gun emoji and promises to switch to Android after the account tweeted Apple's emoji news.
Gun-rights advocates shouldn't fret too much, though: At the very moment Apple was disarming its gun emoji, one of its competitors was doing the exact opposite. Microsoft has long represented the "gun" emoji as a toy on its devices; in the Microsoft 10 Anniversary release, however, the character will become more realistic.
["source-gadgets.ndtv"]