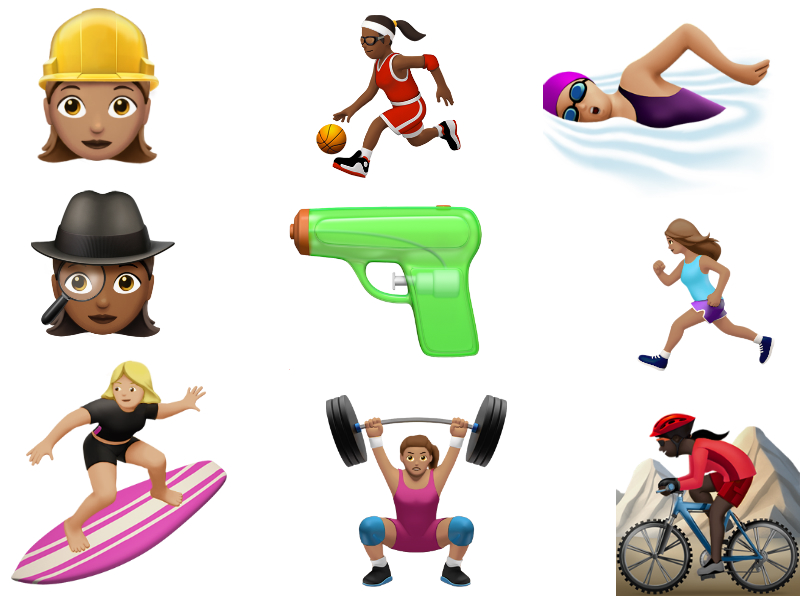 The latest version of Apple's mobile and tablet operating system – iOS 10 – is arriving this fall alongside the new iPhone 7, and it's bringing along many new features and improvements. Apart from the iMessage overhaul and third-party Siri integration, the company has now announced that more than 100 new emojis are also coming with the software update. These are in-line with the new emojis introduced as the Unicode 9.0 standard in June this year.
The new redesigned Apple emojis for iOS 10 include more representation of professional women, a rainbow flag, and a water gun. Apple has highlighted 12 specific emojis in its announcement, giving a generic outline of the emojis that can be expected in iOS 10. These 12 emojis include women in different professions like a detective and even an engineer. Women representing different sports like Basketball, Swimming, Running, Skateboarding, Weightlifting, and Cycling have also been highlighting.
"This exciting update brings more gender options to existing characters, including new female athletes and professionals, adds beautiful redesigns of popular emoji, a new rainbow flag and more family options," Apple says in a statement.
Significant family emoji additions that include a mother with her son, and a father with his son and daughter, have also been highlighted. Apple has also emphasised on the new rainbow flag and water gun emojis. Unicode had deliberated to put a rifle in its set of new emoji standard, but then decided against it. Pressure from companies like Apple, and Microsoft, and their decision to not support the emoji made Unicorn not include the rifle emoji altogether. Apple's stress on the water gun is only to further its stance against the rifle emoji.
These new emojis are already available in the latest developer preview of iOS 10. The skin tones of these new emojis can also be changed. Unicode 9.0 introduced 72 new emojis that include a shrug, facepalm, fingers crossed, drooling, selfie, and even an emoji depicting rolling on the floor laughing (ROFL). The full list of new emojis introduced in Unicode 9 can be viewed here.
["source-gadgets.ndtv"]