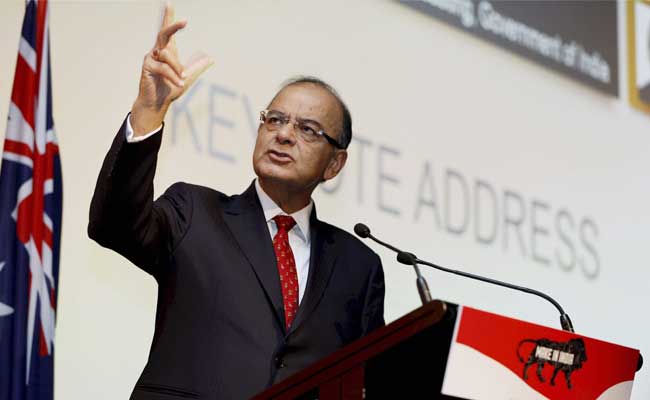 MELBOURNE: 
Showcasing significant investment opportunities in manufacturing and infrastructure sector, Finance Minister Arun Jaitley has invited Australian businesses to come and invest in India as he wraps up his four-day visit to the Asia Pacific country.
During his visit, Mr Jaitley met Prime Minister Malcolm Turnbull, Energy Minister Josh Frydenberg, Treasurer Scott Morrison, Finance Minister Mathias Cormann and several other top dignitaries and business leaders of Australia.
On his first day in Sydney, Mr Jaitley inaugurated 'Make in India' conference where he strongly pitched for foreign investments in India, especially in the area of manufacturing and infrastructure.
In Canberra, he met Prime Minister Turnbull and discussed trade and bilateral issues of the two nations. He also invited the Australian PM to visit India.
The finance minister also attended a special reception organised by the Indian High Commission where he met a large group of Indian diaspora from across the country.
In Melbourne, the finance minister met a high-powered delegation of Australia's Superannuation funds and other investors along with FICCI delegation where he urged them to invest in India's infrastructure projects and other manufacturing sectors.
He assured them that India's economic story was all set to stay on path of growth and that the government was strongly focusing on 'Ease of doing business' by rationalising the tax system and other processes and policies.
Mr Jaitley, while attending a special dinner last night organised by Victorian politician Tim Pallas, called the Indo-Australian relations "evolving and growing" strongly.
"It's not only sports where the relations are evolving but also in business, culture, politics and strategic relationships, which all determine our future destinies," Mr Jaitley said adding that the two sides were natural allies.
He also raised the topic of Free Trade agreement which he said had passed the set deadline of last December while stating that "the more we cooperate, the more we coordinate, the better it is for both the countries as a win win situation."
Greater Pacific Capital CEO Ketan Patel, who was accompanying the finance minister as a part of FICCI delegation said Mr Jaitley's visit to Australia would galvanise the relationship of the two sides.
Mr Patel said the Australian investors were mainly worried about the history of India as a difficult destination to do business with.
["source-ndtv"]