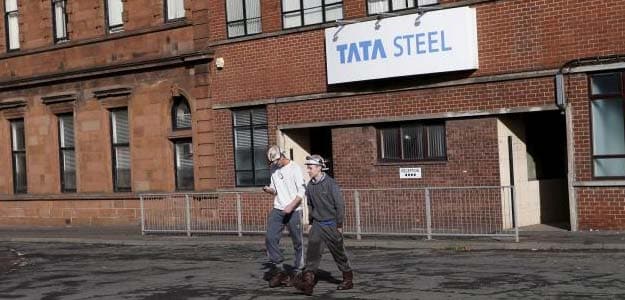 London: Britain's biggest steel business is such an unattractive prize that most major investment banks are not even angling for the opportunity to advise potential buyers on one of the year's highest profile deals.
The fate of Tata Steel's lossmaking UK division, including its flagship Port Talbot plant in South Wales, has dominated headlines since the Indian company announced on March 30 that it would seek a buyer.
Normally a deal of that prominence and complexity would have bankers salivating at the prospect of fees.
But out of 10 major investment banks contacted by Reuters, bankers at only two said they were sounding out potential buyers. Five said they were not seeking any role and three said they had not made a decision.
Even the two bankers who were looking for a role said they were approaching entrepreneurs and family offices, rather than major steelmakers, who were unlikely to be tempted because of the protracted slump in prices.
"This business burns cash. Would you pay money for that?" said one of the two, who spoke about prospects for future business on condition of anonymity.
Not only would potential bidders be hard to find, but the likely need for a role for the British government in helping any deal could mean a political squeeze on potential fees, bankers said.
Restructuring specialists said privately that they are not seeking mandates either, as the situation is currently a distressed sale rather than a debt restructuring.
Tata Steel did not immediately respond to a request for comment.
Even the seller hasn't hired a bank, although sources earlier had told Reuters that Tata would name one. Instead, Tata has appointed accounting and professional services company KPMG and law firm Slaughter and May as advisors on the deal.
KPMG and Slaughter and May already worked on Tata's sale of its Long Products Europe division in northern England to family office Greybull Capital for 1 pound ($1.42), announced this week, with no investment bank advising either side.
Greybull, which rescued struggling Monarch Airlines in 2014, was advised by consulting firm Alix Partners. The deal included a 400 million pound investment and financing package and saved 4,400 jobs. Greybull has so far not ruled out a bid for Tata's other British assets.
UNUSUAL 
While a deal for the rest of Tata's British business could in theory be done without any investment bank hired to give advice, it would be unusual for the sale of such a major asset.
Tata's UK operations employ 10,000 workers and require large funding capabilities, as well as complex negotiations over everything from pension liabilities to energy subsidies.
Bankers usually try to find a role on deals early on. They argue that their relationships providing corporate clients with other financial services make them ideally suited to advising buyers and sellers alike. They can also provide access to financing where needed.
Apart from Greybull, the only other would-be buyer to have publicly emerged is metals firm Liberty House. Its boss, Sanjeev Gupta, has approached banks to advise on a potential deal, several sources said, but has yet to appoint anyone.
"We, as well as other interested parties, will need to analyse carefully the information received in order to seek an economical and sustainable future for the business," a spokesman for Liberty House said in an emailed statement.
"Liberty will be appointing a strong and reputable team to carry out that analysis and in the days and weeks ahead."
Gupta said on Wednesday that he expected Tata to set a deadline for bids on its UK assets at the end of May and believed there would be other bidders involved.
Even then, bankers said the politics of the sale and the loss-making nature of the assets meant fees were likely to be small.
"When the UK government are involved, fees tend to dwindle. Some bank could do it for a million pounds, maybe. But you're going lower down the totem pole in terms of fees," one said, discussing prospective business on condition of anonymity.
British business secretary Sajid Javid has hinted that the government could take a stake in the assets to help save jobs. The government has also said it could offer state loans to tempt private bidders.
The ranks of experienced steel bankers have also been thinned by a dearth of activity in the sector. Some have left banks, while others have shifted to cover other areas.
Banking fees for the steel industry have been in steady decline, reaching just $688.3 million last year, according to data from Thomson Reuters and Freeman Consulting, the lowest since 2005. The overall value of steel M&A activity in 2015 was $14.1 billion, the lowest since 2009.
"We're not following up. There have been very few steel deals," said one banker at a major European institution who said nobody was covering the sector at his bank.
["source-ndtv"]