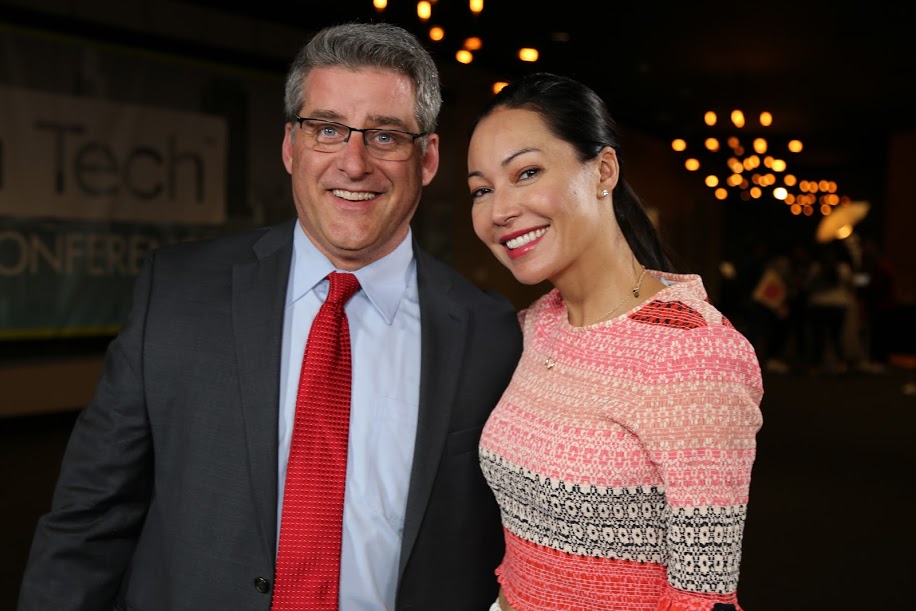 For many organizations, diversity and inclusion are no longer words that are just mentioned in an employee handbook. Companies have found that when they enable more diversity in their workforces, they are rewarded with a strong return on investment. A varied and innovative workforce provides more ways to problem-solve, creating products and services that are inherently more comprehensive and useful to more people.
"It's really important that [companies] incorporate [diversity] into their overall business strategy," said Adriana Gascoigne (pictured), founder and chief executive officer of Girls in Tech Inc., global non-profit organization focused on the engagement, education and empowerment of women in technology. "Recruiters are now flagging it as something that's extremely important because they are seeing how it really impacts the company and their business."
Gascoigne spoke with Jeff Frick (@JeffFrick) (pictured), co-host of theCUBE, SiliconANGLE Media's mobile livestreaming studio, during the Girls in Tech Catalyst Conference in San Francisco. They discussed how Girls in Tech is growing, as well as gave a shout-out to a surprising early sponsor. (* Disclosure below.)
Expanding on a strong global footprint
From astronauts to venture capitalists, and from established companies to start-ups, the Girls in Tech Catalyst Conference represents many different facets of the tech business. The conference holds more than 20 sessions per day, as well as hands-on sessions and cocktail parties, that help people build their careers and network with each other to discover new and interesting opportunities.
Girls in Tech now has more than 100,000 active members located in 60 cities around the world, across 36 countries, and in six continents, Gascoigne pointed out. She anticipates that by the end of 2020, there will 200,000 active members in more than 100 cities.
"So that's a pretty massive growth spurt that we're experiencing. There's just huge demand," she said.
GoDaddy Operating Company LLC, one of the largest web hosting companies, was infamous for its controversial Super Bowl ads, one of which was considered insulting to women. Surprisingly, GoDaddy was the very first sponsor for Girls in Tech. Gascoigne spoke with GoDaddy's executive team, discussing how the company was working to change its brand and its work environment to be more diverse and inclusive. Since then, the company has proven to be a strong supporter of Girls in Tech and Gascoigne as its leader over the years.
"Everyone deserves a second chance," Gascoigne concluded.
Watch the complete video interview below, and be sure to check out more of SiliconANGLE's and theCUBE's coverage of the Girls in Tech Catalyst Conference. (* Disclosure: TheCUBE is a paid media partner for the Girls in Tech Catalyst Conference. Neither Girls in Tech, the event sponsor, nor other sponsors have editorial control over content on theCUBE or SiliconANGLE.)
["Source-siliconangle"]