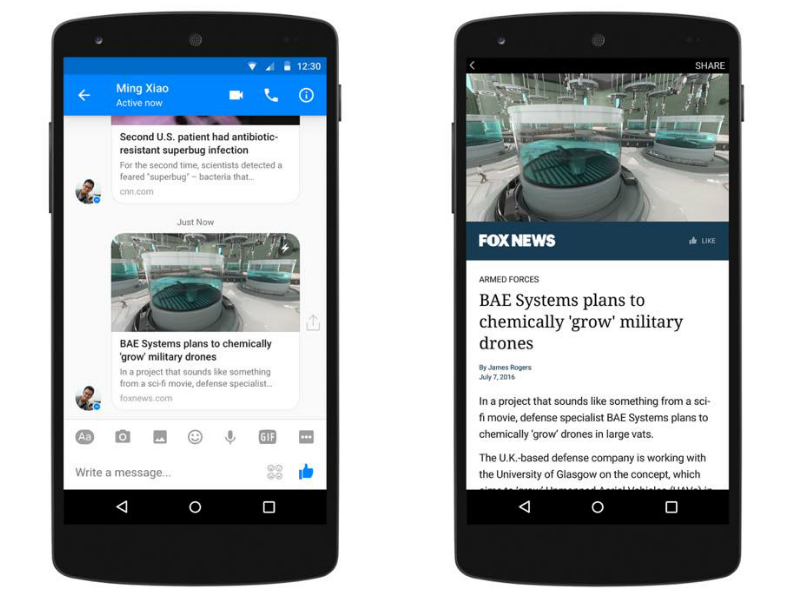 Facebook has expanded its Instant Articles feature to its Messenger platform. The feature will let users loads Instant Articles in a separate Messenger window, instead of a third-party browser, to save users' time and data.
For the publishers that don't support Instant Articles, the articles will open up normally in the smartphone's default browser. Currently, the feature has only been rolled out for Messenger app users on Android. iOS users will get it sometime in the coming weeks. The feature will be added to the Android app via a gradual OTA update, so be patient if you haven't received it yet.
The Instant Articles feature was first launched on the Facebook app last year. While iPhone users were the first ones to get it, Android users followed suit soon. It arrived in India in November with five partnered publications.
The social giant first teamed up with a few content houses, and then made it available to all publishers. The feature will work in the same manner, as it did on the Facebook app. Publishers who signed up for Instant Articles, had their stories show up 'instantly' in a new app window, instead of a browser. The content which supports Instant Articles comes with a lightning bolt sign on top right.
Instant Articles achieves faster loading speed by pre-loading the articles beforehand. The article therefore has already been loaded in the background, and hence photos pop up instantly when you tap the link, and videos start playing the moment you scroll on it.
Publishers that have partnered with Facebook for Instant Articles were at a count of 350 in December last year.
["source-gadgets.ndtv"]