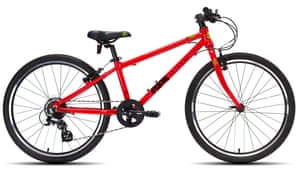 It is a scenario many cyclists imagine as they gaze at their newborn baby: the day they can start going for bike rides with junior. Not for their child a PlayStation 4 or Snapchat: their offspring will be turning the cranks with glee. That's the dream, anyway.
Alice, the seven-year-old I borrowed to test the Frog, is the daughter of a former bike mechanic and racer. Almost always keen to go for a pedal, she quickly tires, partly because her legs are going like the clappers – her Carrera from Halfords has twist-shift gears her little hands can't quite turn – and partly because the adult-sized cranks force her knees up too high.
She was very excited to have a go on the Frog, which at £330 is twice the price of her usual ride. It may seem extravagant for a quickly growing child, but lumbering, cheap bikes can put a kid off cycling for life. Plus, Frogs – like Islabikesand Bromptons – hold their value for resale. You're also paying extra for a product designed and assembled (if not made) in Britain, and sold exclusively to independent bike shops. Ours came from The Bike Factory in Whaley Bridge, Derbyshire.
We set off down the Peak Forest canal, which runs between Ashton, east of Manchester, and Whaley Bridge. It took 10 minutes of coaching to get the hang of the Shimano easy-change thumb shifters, and soon she was going fast enough to scare the ducks away. "I felt like I was on the motorway," she says. The short (127mm) cranks helped her get her speed up, too. It really shows that Frog's founders, Jerry and Shelley, have two small children of their own – both keen cyclists.
We reached New Mills to breathe in the sweet fumes coming from the Swizzels factory – they were making Parma Violets that afternoon, our nostrils decided. We didn't linger.
Nervous at first, Alice was soon whizzing down the steep descent to the Torrs Riverside Park, reassured that the Tektro brakes were better than those on her normal bike, and much easier to grab. The Frog also comes with a bell, reflectors and mudguards as standard, with a free, five-year warranty available on the frame and forks.
We were disappointed to find that the riverside path was closed, forcing us to climb some steep steps, but the Frog's 9.2kg aluminium frame meant it was easy for the grownups to carry. If you want a bike that will inspire a child to cycle, the Frog could be it.
["Source-theguardian"]