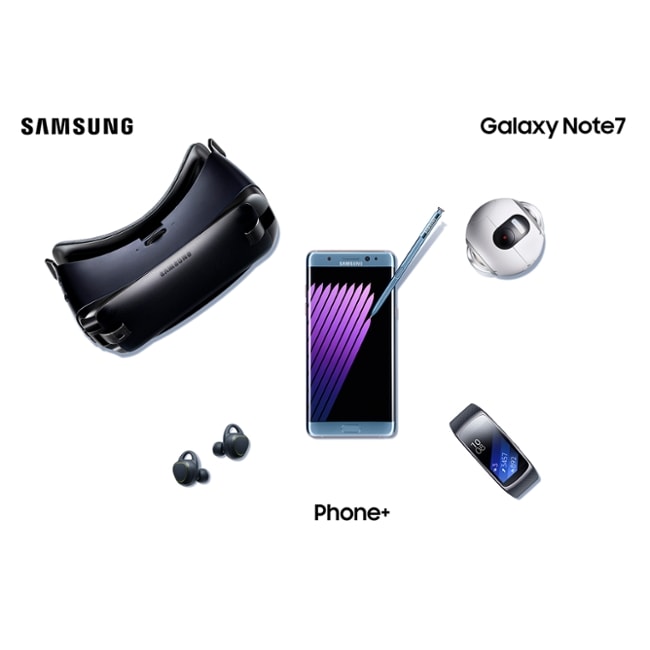 Samsung is all set to launch Galaxy Note 7 on Tuesday, and the South Korean consumer electronics giant is holding simultaneous events in New York , London, and Rio de Janeiro that start at 8:30pm IST (11am EDT, 4pm BST, 12pm BRT).
The Galaxy Note Unpacked 2016 event will be live streamed, and you can watch the stream on this page. Alongside the Galaxy Note7, Samsung is expected to launch a new Gear VR headset, as well as debut its Apple iCloud rival – purportedly Samsung Cloud. Stay tuned to Gadgets 360, and don't forget to follow us on Twitter, for the latest updates from the event.
The South Korean company's specialised phablet range has always occupied a special place in its product lineup, sitting alongside the flagship devices as the large-screen, stylus-powered option meant for power users.
Samsung will be going to the Galaxy Note 7 straight after the Galaxy Note 5, in order to bring the range numbering in line with the current flagship Galaxy S7 and Galaxy S7 Edge.
So far, quite a bit is known about the Samsung Galaxy Note7 – the phablet has been the subject of innumerable leaks, and so far, all that's been confirmed by Samsung is that the smartphone will indeed be called the Galaxy Note7, and that it will bring a new and improved S Pen stylus. The company is touting the Galaxy Note7 will be its best mobile productivity offering yet.
The rumours have been rife for the last one month, and we already have a fair idea of what to expect from the Samsung Galaxy Note 7, including how it will look.
The Samsung Galaxy Note 7 is expected to ship with a dual-edge display much like the Galaxy S7 Edge, as well as an iris scanner that can be used to quickly unlock the phone. There are also strong indications that the phone will sport a USB Type-C port for charging and data transfers.
The Note range has always featured large screens, but with 5.5-inch screens considered normal-sized these days, the Note 7 will have to up the screen size a fair bit to stick to its phablet positioning. The phone is expected to have a 5.7-inch or 5.8-inch QHD screen with Corning Gorilla Glass 5 protection.
As has been the case with Samsung for a while now, the phone is expected to launch with two SoC variants. Rumours are that some markets will receive a Qualcomm-based variant powered by the Snapdragon 821 SoC, while others (including India) are expected to receive a variant based on the Exynos 8893 SoC.
The Galaxy Note 7 is tipped to sport 6GB or 4GB of RAM, and come in three inbuilt storage variants – 64GB, 128GB, and 256GB. Storage expandability via microSD card (up to 256GB) is also anticipated. The phablet is expected to bear a 12-megapixel rear camera and 5-megapixel front-facing camera, both featuring Dual Pixel technology for better low-light photography. It is also said to come with either a 3500mAh or a 3600mAh battery with fast charging capabilities.
The Samsung Galaxy Note 7 is also expected to be the first smartphone from Samsung with a USB Type-C port, and it is anticipated to ship with a USB Type-C to Micro-USB adapter in the box. The phablet is said to run on Android 6.0.1 Marshmallow, and become available in Onyx, Silver Titanium, and Blue Coral colour variants. A Gold colour variant was also tipped recently.
Samsung's phablet flagship for 2016 is expected to be made available globally in August itself, with reports tipping availability the same day as the launch in South Korea, while Europe is anticipated to receive the Galaxy Note 7 on August 16, while the US is anticipated to see the phablet hit shelves on August 19.
The Galaxy Note 7 is tipped to cost EUR 849 (roughly Rs. 63,000) in Europe for its base variant, which is more expensive than the launch price of the Galaxy S7 Edge from earlier this year.
["source-gadgets.ndtv"]