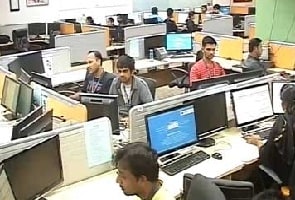 New Delhi: The next six months are likely to favour job aspirants as 88 per cent of employers are willing to increase their staff strength on account of improved economic conditions, a report says.
According to TeamLease's Employment Outlook Survey, for the next six months (October 2014 – March 2015) global macroeconomic trends and domestic demand will put business and employment sentiment on a fast paced upward trajectory.
Around 91 per cent of the survey respondents said business outlook, for the coming half year, has improved, while 88 per cent said employment outlook has increased.
Accordingly, job growth is expected to follow suit at a stupendous 12.8 per cent, the report said.
Further, the optimism in the employment outlook seems to be not just confined to the metros but tier 2 towns as well.
Hindupur, Visakhapatnam, Hubli, Thiruvananthapuram, Belgaum, Aurangabad, Kota, Ajmer and Meerut are some of the new catchment areas which recruiters have identified to hire from over the next half year, the report said.
"There is an overall buoyant mood owing to the right noises the government is making as well as the festive season," TeamLease Services senior vice president Kunal Sen said.
Mr Sen further said: "We are seeing increased hiring mandates. After year-long fluctuations, the overall business and hiring sentiment seems to have stabilised and is seen moving towards growth. We are confident the trend will translate into action on ground."
From a sector perspective, with almost all the sectors indicating a positive swing in the business sentiment, the business atmosphere in the upcoming half year is expected to be exuberant across industries.
While IT, Healthcare & Pharma and Retail seems to be the primary drivers, Telecom, FMCD, FMCG and Financial Services also contribute to the upward movement in the hiring sentiment, the report said.
The report further said the biggest gainer in the coming half year (October 2014 to March 2015) will be the junior and senior level profiles. Moreover, employers are increasingly stressing on hiring superior technological expertise as well as better skilled employees.
Some of the profiles that are in demand in the coming half year are product /project management, new social media management, big data and predictive analytics, the report said