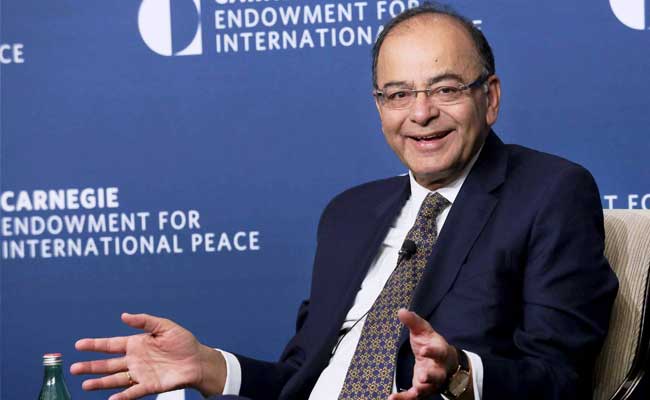 WASHINGTON: 
India has created a favourable investment climate in all sectors which has resulted in a hefty increase in FDI in the last two years, Finance Minister Arun Jaitley told the World Bank.
"India has liberalised foreign investment policies and created a very favourable investment climate for investments across all segments of economy — agriculture, manufacturing and services — under major initiatives of 'Make in India', 'StartUp India' and 'Digital India'," Mr Jaitley said in his address to the 93rd meeting of the development committee of the World Bank.
Foreign Direct Investment (FDI) inflow in India has witnessed hefty increases of over 30-40 per cent in last two years, catapulting India into 7th largest FDI destination in the World, said Mr Jaitley, who is in Washington to attend the annual Spring Meeting of the International Monetary Fund (IMF) and the World Bank.
In his address, Mr Jaitley said India has also made significant leaps in the developmental, climate change and inclusion agenda by launching path breaking initiatives.
The Indian government, he said, is delivering subsidy to 153 million households for use of LPG directly in their bank accounts through the world's largest cash transfer programme.
"The subsidies on petrol and diesel have been done away with and we have put carbon taxes on coal and other fossil fuels," he said.
Mr Jaitley said the global growth in 2015, currently estimated at 3.1 per cent, is projected to inch up to slightly higher level of 3.2 per cent in 2016 and 3.5 per cent in 2017.
"This slow and low growth faces significant downside risks — depressed commodity prices, ongoing geopolitical tensions in a number of regions and adverse financing conditions depressing investor confidence and global trade," he said.
"Most worrying is the fact that the growth, which is necessary to achieve poverty reduction and SDGs, is now declining in emerging market and other developing economies and their fiscal position continue to deteriorate," Mr Jaitley said.
Referring to the huge refugee problem, the Finance Minister said the World Bank will have to leverage its accumulated knowledge and mobilise resources to tackle these challenges.
"In the backdrop of constraints in mobilising additional concessional finance on one hand and increased demand for such resources on the other, the World Bank group will have to walk an extra mile mobilising additional resources for this endeavour," he said.
["source-ndtv"]