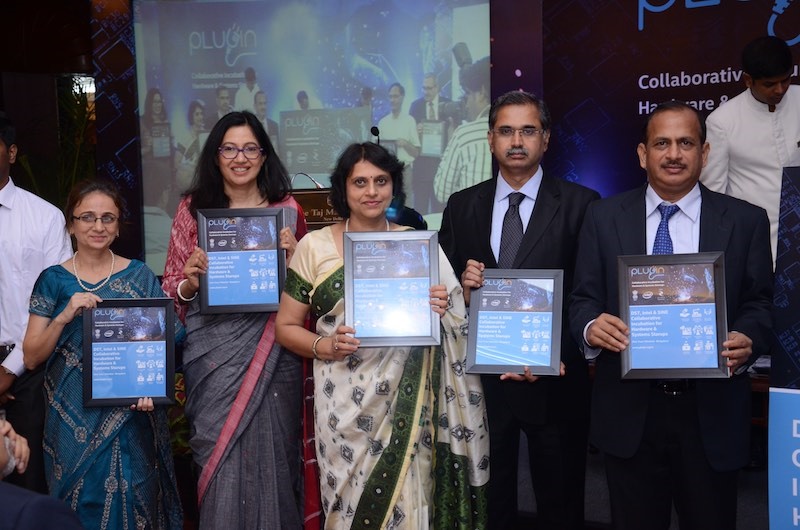 India's technology ecosystem is largely known for its software companies – from software giants that have been B2B service leaders for decades now, to the e-commerce companies that dominate headlines today. A new incubator that's been put together thanks to collaboration between the government, academia, and Intel, wants to shift the focus towards hardware.
Plugin is a new hardware startup incubator that's a partnership between the government's Department of Science and Technology (DST), which is a leading funding agency; the Society for Innovation and Entrepreneurship (SINE), which is IIT Bombay's business incubator, and has supported over 80 startups until now; and Intel. Plugin will look to provide funding and access to equipment as well as mentorship and refine the startups' go-to-market strategies.
"Traditionally, SINE has incubated companies based on IP, and software startups," explains Poyni Bhatt, COO, SINE, IIT Bombay. "Plugin is a first because we haven't backed hardware startups like this before."
With the "Make in India" program, there's greater interest in local hardware development, and it's becoming easier to get government buy-in for funding activities and that's something that Plugin's first batch of startups will be hoping to benefit from. And although Intel will also be putting in funding for Plugin, its role extends beyond just money.
"Other than the money, we have our maker lab in Bangalore," explains Nivruti Rai, Vice President, Platform Engineering Group and General Manager, Intel India, "where we have already incubated 17 startups. Now, with SINE and DST, we will be able to increase the scope of what we are doing. Our mentors will be available and will be able to add a lot of value to the startups."
Plugin – which was officially announced on Saturday – will be accepting applications from around India, and will start its program in October.
"We will be offering Rs. 30 lakhs, each to 20 startups and that includes hardware toolkits, product development kits which are also quite expensive," adds Bhatt, "and we have our own prototyping space which these startups can use, so there is a lot of value we're bringing in for the startups. The only requirement is that they should be hardware startups, and we're hoping to see projects in healthcare, to transport, IoT, and consumer products."
Participating startups will be incubated through intensive training periods, one-on- one mentoring, technology related support from Intel experts, business service support from SINE, as well as prototyping and manufacturing support.
"Working with the government and SINE, we're offering our PDK and our tools," says Intel's Rai, "plus we have our architects and specialists, across a lot of different fields. That's very important because there's a lot you can leverage, an we have mentors who can help turn an idea into a real product."
"They can take your prototype and help make it marketable," she adds. "So the first six months, we're working on the product, and then the next six months, the focus is on how to take it to the market, maybe they need a longer runaway and we can help with meetings with VCs, we work out their journey."
["source-gadgets.ndtv"]