When his car needed weeks of transmission work and his dealer was out of loaners, Myles Arnett was sent to a nearby Hertz rental-car lot. He had his pick of Nissan Altima and Sentra sedans to choose from — and little else.
"Over the past two, three years, predominantly Nissan is what's on the lot, whether its Enterprise or Hertz," said Arnett, a Columbus, Ohio-based computer-network administrator who rents vehicles several times a year.
More American rental-car lots are looking a lot like the one Arnett encountered, which helps explain why Nissan Motor Co. has been an exception among automakers reporting declining U.S. sales this year. But Nissan's decision to boost deliveries to fleet companies carries risk, both to the Japanese automaker and to struggling rental-car giants Hertz Global Holdings Inc. and Avis Budget Group Inc.
Rental-car companies go through cars much like consumers do, racking up miles before reselling them to the used-vehicle market. If Nissan sells too many cars to the likes of Hertz and Avis, the oversupply can depress the value of vehicles owned both by regular consumers and the companies. Having been burned by this phenomenon in past downturns, Detroit automakers have been dialing back their fleet business this year, contributing to what analysts expect to be another month of slower U.S. auto sales in May.
"Nissan has been very open that they think they can handle more fleet business in a profitable way," said Eric Lyman, an analyst at TrueCar Inc.'s ALG unit. "If GM and FCA have left some of the fleet business, Nissan is more than happy to fill the void."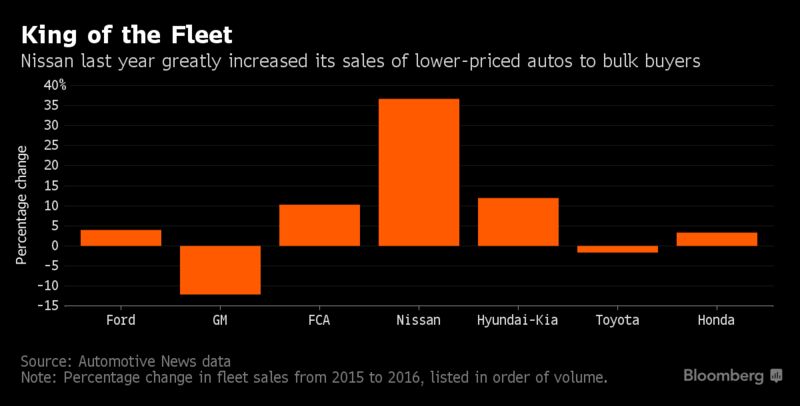 Automakers probably will report a slower pace of annualized sales for a fifth consecutive month, according to a Bloomberg News survey of analysts. The industrywide selling rate, adjusted for seasonal trends, may have slipped in May to about 16.8 million, compared with 17.2 million a year ago.
Nissan has been expanding its fleet business as some dealers criticize its use of retailer incentive programs and rising discounts to consumers drag on earnings. The Yokohama, Japan-based company risks reducing the value of its models over time, a hidden cost to buyers that also makes it harder to finance competitive leases.
Almost a third of Nissan Altima sedan sales in the U.S. last year went to fleets, according to Edmunds.com data through October.
Car Giveaways
"A successful fleet operation is one thing, when it's 10 percent of your volume," said John Mendel, who until April was Honda Motor Co.'s top U.S. sales executive. "But when it approaches 35 percent to 40 percent of your business on that vehicle line, I struggle with saying that's successful. That's just giving cars away."
Detroit automakers may be cutting back on their fleet business, but Judy Wheeler, Nissan's vice president of U.S. sales, said the companies remain very much in the mix. Nissan has been working more than a year to sell nicer-equipped models to rental fleets to make impressions with consumers and woo some potential buyers, she said in a phone interview.
"Maybe it makes them rethink what they have in their driveway," Wheeler said.
Nissan's market share gains this year could continue another month, based on analysts' estimates. The company's deliveries may rise 0.6 percent in May, while four of its biggest peers are projected to report declines. General Motors Co. is expected to post the biggest increase, at 4.3 percent.

Fiat Chrysler Automobiles NV's move to end production of the Dodge Dart and Chrysler 200 sedans took out big chunks of rental-car supply and has contributed to shrinking total sales for about a year. Chief Executive Officer Sergio Marchionne is retooling factories that used to produce cars to make more profitable Jeep sport utility vehicles and Ram pickups.
U.S. auto sales are on track to decline this year for the first time since 2009, the year that GM and Chrysler's predecessors went bankrupt.
Rising fleet sales last year — led by Nissan — powered the U.S. auto industry to an unprecedented seventh straight annual sales gain in 2016. While full-year light-vehicle sales rose by 70,882 vehicles, according to researcher Autodata Corp., total fleet sales increased by about 108,440 units, according to trade journal Automotive News.
[Source"timesofindia"]