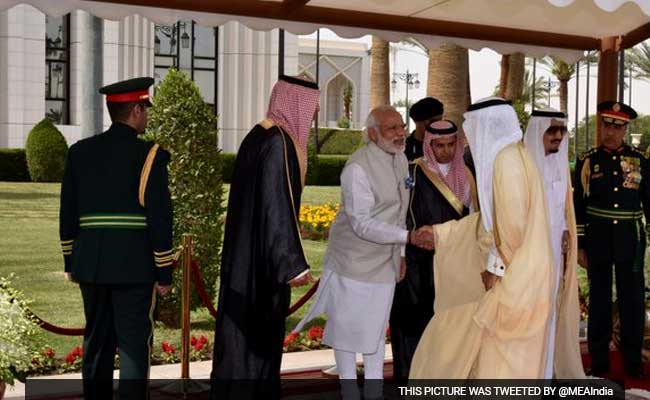 NEW DELHI:  Prime Minister Narendra Modi today held talks with Saudi King Salman bin Abdulaziz on ways to expand strategic cooperation in a range of areas including trade, investment and counter-terrorism. He was accorded an official welcome at the Royal court.
Here are the top 10 developments:
Prime Minister Narendra Modi held wide-ranging talks with Saudi King Salman bin Abdulaziz on Sunday afternoon, the last day of his three-nation tour. The two sides agreed on cooperation in exchange of intelligence related to money laundering, related crimes and terrorism financing.
India and Saudi Arabia will also coordinate with each other on counter-terrorism operations, intelligence sharing, cyber security (including prevention of use of cyber space for terrorism, radicalization and for disturbing social harmony).
Earlier, PM Modi had met the country's Health Minister and head of the country's national oil company. "Minister Al Falih to PM: Saudi Aramco looks to India as its No.1 target for investment," External Affairs Ministry Spokesperson Vikas Swarup tweeted.
PM Modi began the second day of his visit to Saudi Arabia at the Tata Consultancy Services or TCS all-women IT Centre in Riyadh. "I am meeting those IT professionals who I can say today represent the glory of Saudi Arabia ," Prime Minister Narendra Modi said at the in his brief address after which he posed for photographs, many of them selfies, with the women IT professionals.
"In human resources, women play a very important role…Building the capacity of women would lead to the development of any country," PM Modi said. "This atmosphere I am witnessing here today has the potential to give a strong reply to the world," he added.
Yesterday, he had addressed the representatives of the three-million strong Indian community in the Saudi capital. "The reason for India's growth is its political stability," Mr Modi had said in his address.
"India's agriculture sector, manufacturing sector, services sector – India is progressing very strongly on all three fronts," Mr Modi said at the interaction.
The meeting with the Indian community had followed a visit to the Al Masmak fortress in Riyadh. The Prime Minister's Office tweeted images of his visit to the fortress, labeling it "an evening with history."
An Indian Prime Minister is visiting the oil-rich Gulf kingdom after nearly six years. In 2010, then Prime Minister Manmohan Singh had visited Saudi Arabia.
Mr Modi was received at the King Khalid International Airport yesterday by Governor of Riyadh, Prince Faisal Bin Bandar Al Saud. "Salaam Riyadh. PM @narendramodi arrives in Saudi Arabia to a ceremonial welcome, received by the Governor of Riyadh," Foreign Affairs ministry spokesman Vikas Swarup tweeted.
["source-ndtv"]