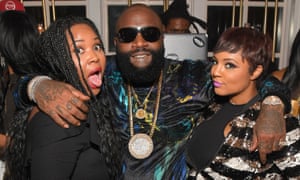 Let us examine the human resources tenets of rapper Rick Ross, who was asked in a radio interview why he had never signed a woman to his label.
"You know," he ruminated of the personnel make-up of Maybach Music Group, "I never did it because I always thought I would end up fucking a female rapper and fucking the business up."
An evergreen reminder that you simply can't be too fastidious about risk assessment. "I'm so focused on my business," Rick went on. "I just, I gotta be honest with you. You know, she looking good. I'm spending so much money on her photo shoots. I gotta fuck a couple times."
Well, quite. The thought that you could invest so much in a product and then essentially steal from yourself by placing your penis inside it is the classic employer's fable.
Even so, I do wonder whether the show Rick was promoting when he made these comments – a VH1 effort where acts compete to be signed by his label – might not now need a contestant rejig. At present, the lineup includes several women, who must now do the decent thing and accept that their status as fuckable corporate malware renders them wholly ineligible.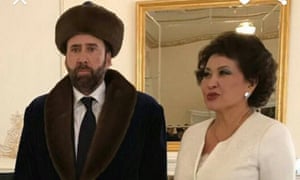 Don't ask Nicolas Cage to think about Kazakhstan
Photo of the week featured Nicolas Cage, who found himself in Kazakhstan. Indeed, the photo appeared to capture the precise second Cage found himself in Kazakhstan. You're probably wondering how he ended up here – but honestly, you're not wondering it a tenth as hard as he is.
Still, he later rallied sufficiently to inform local journalists that he liked the architecture of their capital, Astana. "What I saw reminded me of an old black-and-white film that predicted the future."
Mmm. Anyway, reaction to his presence at the local film festival has ranged from mirth to outrage, with a couple of human rights groups wondering what he was thinking, given the Kazakh dictatorship's record.
Clearly, no one should be using political terms such as "thinking". Thinking? Did you want Cage to think when he was outbidding Leonardo DiCaprio for a T rex skull? Did you want him to think when he developed a raging castles habit, purchasing Bavarian schlosses and one in Somerset shaped like a trefoil quicker than he could hopelessly sell them on at a loss? Did you want him to think those times he did magic mushrooms with his cat? "He would stare," recalled Cage of those wild trips, "and I had no doubt that he was my brother."
Yes, thinking is the very last thing we want from Nicolas Cage. Wherever he finds himself next, all we can hope for is that someone is on hand to capture the moment.
[Source"cnbc"]