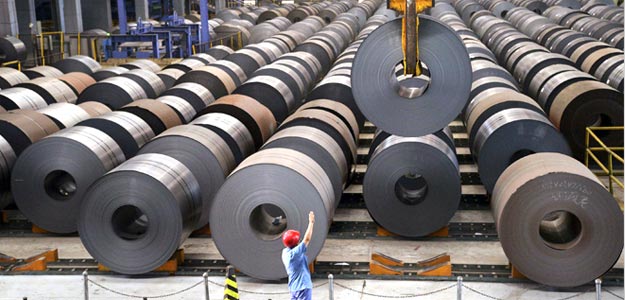 New Delhi: India's steel ministry is considering appealing to Prime Minister Narendra Modi to back a proposal to toughen up anti-dumping rules to tackle a flood of cheap imports threatening its steel industry, a government source said.
India is among a number of countries and groups such as the European Union weighing up taking further measures against cheap exports from countries such as China and South Korea.
Indian purchases of Chinese steel products rose 5 per cent in the 11 months to February, provisional government data showed, after more than trebling in the fiscal year ending March 2015. Imports from Japan were up 39 per cent, while shipments from South Korea rose 54 per cent between April and February.
Because of the distress in India's steel industry, the ministry had written a letter seeking to change anti-dumping rules, said the source, who declined to be named because he was not authorised to speak to media.
According to the source, the letter had asked the trade ministry to alter anti-dumping rules unchanged for two decades to reflect only the dumping margin. This should effectively raise the duty and bring India in line with the United States and Canada, while meeting World Trade Organization (WTO) rules, the source said. But the trade ministry turned the proposal down and Trade Secretary Rita Teaotia said current rules were internationally accepted and followed, among others, by the European Union.
"They are asking us to amend the rules, but they are looking at only one country, the United States," Teaotia told Reuters. The steel ministry was now considering approaching the federal planning body, Niti Aayog, or the Prime Minister's office to press its case, according to the government source.
India's steel secretary and PM Modi's office were not immediately available for comment.
STEEL SECTOR LOBBYING 
Indian companies accuse South Korea, Japan, Russia and especially China, which produces nearly half of the world's 1.6 billion tonnes of steel, of unfairly flooding local markets with cheap products and undercutting them as demand slackens at home.
India last week extended a safeguard import tax on some steel products until 2018 and imposed a floor price on overseas purchases in February, but companies such as JSW Steel, Tata Steel and Kalyani Steels have been lobbying for more measures.
New Delhi currently takes into account the margin of dumping and the margin of injury to the industry and restricts anti-dumping duty to the lower of the two. The dumping margin is the loss for an exporter selling to another country, while the injury margin is how much the Indian steel industry is undercut.
The domestic industry also has to prove that dumped imports are causing or likely to cause injury.
Indian steelmakers say a change in anti-dumping rules would prevent the steel industry from dying out and stave off the dependence of sectors such as engineering goods on imports.
The government has issued notices to China, Japan and South Korea proposing a probe on "dumping" of some steel products, according to a source at the Directorate General of Anti-Dumping & Allied Duties.
"What we have been trying to explain to the user industry is that we are part of the same value chain," said Seshagiri Rao, joint managing director at JSW Steel.
"If I am impacted today and you don't support us – because it is unfair trade which is happening – the same thing will happen to you."
China's commerce ministry did not respond to requests for comment on the impact any changes to anti-dumping rules might have on its exporters.
["source-ndtv"]