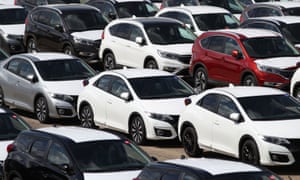 New car sales in the UK went into reverse for a third month in June in the latest sign that consumers are becoming increasingly reluctant to commit to major spending decisions.
Sales fell by 4.8% year on year last month to 243,454, following an 8.5% drop in May and a 19.8% slide in April, according to the Society of Motor Manufacturers and Traders (SMMT). In the first half of the year overall, new car sales fell by 1.3% to 1.4m vehicles, which was still the second biggest first half on record.
In the second quarter overall, new car sales fell by 10.3%, the biggest quarterly drop in more than six years.
The slowdown in recent months follows five years of growth in new car sales, which has helped to underpin consumer-led growth in the wider economy. Unions have warned that UK households face a fresh crisis in living standards as inflation rises faster than wages, leaving consumers with less money to spend.
"Demand for new cars has started to cool following five consecutive years of solid growth but the numbers are still strong and the first half of the year is the second biggest on record," said Mike Hawes, the SMMT chief executive. "Provided consumer and business confidence holds, we expect demand to remain at a similarly high level over the coming months."
The strong first-half performance was skewed by March, the biggest month for new car sales since the trade body started collecting data in 1976. Analysts said it was a bumper month because consumers brought forward car purchases to avoid a rise in vehicle excise duty on 1 April.
An explosion in cheap car finance deals has fuelled growth in consumer credit to such an extent that the sector has attracted scrutiny from the Bank of Englandand the Financial Conduct Authority.
The Bank's governor, Mark Carney, warned last week that the rapid increase in consumer credit was among "pockets of risk" in the financial system. While broader consumer credit is growing at a rate of about 10% a year, car finance is growing by 15%.
Tamzen Isacsson, a director at the SMMT, said finance deals were an affordable and flexible way for motorists to buy a range of cars.
She added: "The motor finance market is highly competitive and governed by strict rules but given the recent growth in the popularity of motor finance it is understandable that regulators want to know how the market is operating in more depth. We look forward to engaging in this process."

Smaller cars, typically powered by smaller petrol engines, were most popular among buyers in June, with superminis and small family cars accounting for almost 60% of the market.
Diesel car sales fell by 14.7%, while petrol car sales rose by 2.5% and sales of alternative fuel vehicles jumped 29% to 10,721. Demand dropped among all types of customers, including private buyers, business and fleet.
"It's encouraging to see alternatively fuelled vehicles experiencing rapid growth but adoption is still at a relatively low level and more long term incentives are required if this new generation of vehicles is to be a more common sight on British roads," Hawes said.
[Source"indianexpress"]