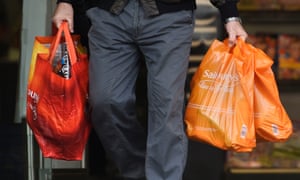 A worse-than-expected decline in retail sales volumes has sparked the biggest daily fall in the FTSE 250 since last summer, with shares in retailers, housbuilders, restaurant chains and car dealers all going into reverse.
The index lost 2.1% after the grim retail data was published. Sales volumes fell by 1.2% in May– their slowest rate for four years – as rising prices caused consumers to tighten their belts. Economists had expected a 0.8% month-on-month decline.
The fall means retail sales were 0.9% higher than a year ago – the weakest rise since April 2013.
The signs of distress included shoppers trading down from branded groceries to cheaper own label and more visits to discount food retailers.
About £9bn was wiped off the value of the FTSE 250 companies. The index is a better proxy for the health of the UK economy than the FTSE 100. The slowdown in spending by consumers will fuel worries that the UK economy is entering a period of sluggish growth.
In April sales surged to an eight-month high, though this was seen as a blip in a longer-term trend for shoppers to tighten their belts.
The Office for National Statistics blamed the steep rise in the annual rate of inflation over the last year to 2.9% in May, up from just 0.3% in May 2016.
Samuel Tombs, the chief UK economist at Pantheon Macroeconomics, said: "May's retail sales figures confirm that consumers are struggling to spend more now that real wages are falling at the fastest rate for three years."
He said looking ahead, it was difficult to see the trend in retail sales improving soon.
"Retailers have not finished yet passing on higher import prices to consumers, wage growth looks set to remain depressed and banks are reporting that they intend to restrict the supply of unsecured credit," he added.
"As a result, we expect quarter-on-quarter growth in households' real spending to average just 0.2% in the remaining three quarters of 2017, ensuring that the overall economy continues to struggle."
The ONS said average store prices increased by 2.8% tracking the overall inflation rate, illustrating the decision of most retailers to pass on at least some of the increased cost of imports to consumers.
After the EU referendum vote last year the pound plunged by almost a quarter, dramatically increasing the cost of imported goods. While shops have absorbed some of the extra cost, many have passed on some in the form of higher prices.
Keith Richardson, managing director retail sector at Lloyds bank's commercial banking arm, said hopes for a post-election bounce appear to have been dashed, with further political uncertainty potentially damaging consumer confidence.
"In reality, we can see that shoppers are actually tightening their belts, switching to supermarkets' own-brand products, while the discounters are also enjoying renewed growth," he said.
"They're also prioritising their spending, with non-food sales suffering so that consumers can still afford to put a treat in the trolley when buying their groceries.
"But while it might benefit grocers to see people eating in instead of going out, other parts of the high street are less fortunate as fewer nights out will mean fewer new outfits and so on. Whichever way you look at it, this is shaping up to be another difficult year for certain parts of the retail world."
The slump in retail sales, combined with the profit warning from sofa chain, has seen shares in the sector drop back sharply, with Next, Marks & Spencer and Kingfisher all down more than 3%.
[Source"pcworld"]