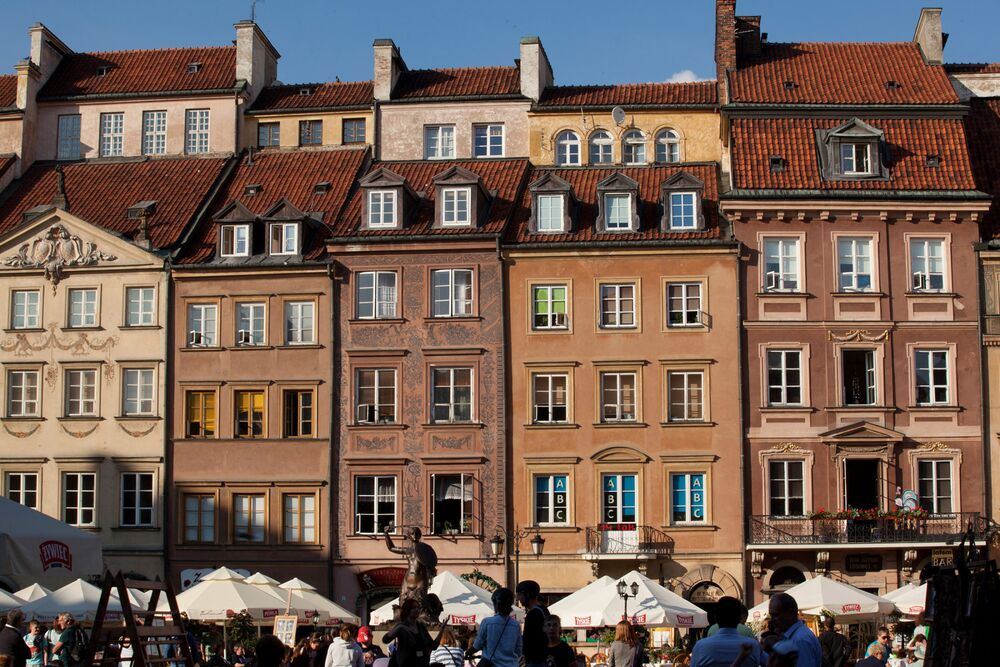 Poland's banks, regulators and lawmakers have been locked in a yearlong argument over how to unwind $42 billion in foreign-currency loans without destabilizing the economy.
Lenders want to focus their efforts on the neediest foreign-currency mortgage holders, while the financial watchdog is planning to tighten recommendations to persuade banks to voluntarily convert their loans into zloty.
Politicians have softened their stance, with President Andrzej Duda shelving his initial forced-conversion plan that would cost banks as much as 67 billion zloty ($18 billion), but lawmakers are still debating legislation that would transfer two-thirds of the industry's annual profit to customers with such loans.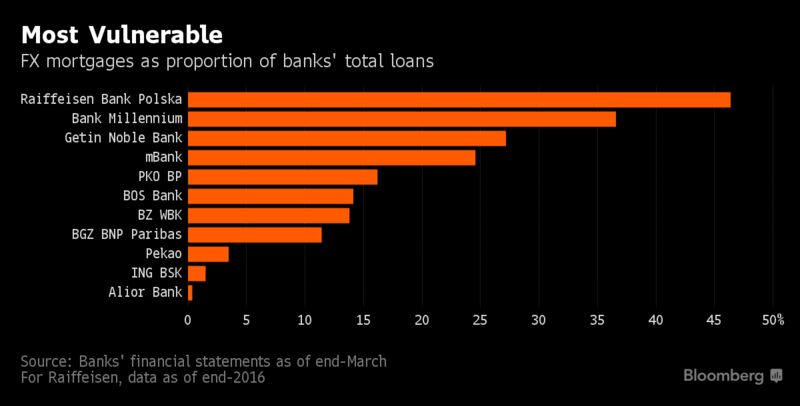 Q: Where are we now?
Last week, central bank Governor Adam Glapinski called for more "cooperation" between the authorities during the final stages of works because the combined impact of the new "regulations can't be so tight that they weaken the stability of the banking system."
Glapinski and the Financial Supervision Authority, headed by his former student Marek Chrzanowski, may require banks to set aside reserves worth 150 percent of their stock of foreign-currency loans, compared with the current rule of 100 percent, according to central bank plans. By boosting the cost of holding these assets, the regulators hope to facilitate the conversion of the loans into zloty.
Glapinski has delayed publishing the recommendations since at least March, boosting speculation he's concerned about placing too heavy a burden on banks, especially given the legislative agenda
Lawmakers are working on a bill to force banks to give clients the "excess" spreads from currency-exchange transactions linked to these loans, which would cost as much as 9.1 billion zloty, or 65 percent of the industry's 2016 profit
Q: What's at stake?
Polish banks' ability to continue to extend credit may be hurt, along with investor confidence in the financial industry, if lenders face tighter requirements, Moody's Investors Service said in February.
A large-scale conversion of the mostly Swiss-franc loans into zloty may also strain Poland's foreign-exchange market, potentially drain the nation's currency reserves and force the central bank to help lenders gain access to enough francs to close such positions.
Q: How has the tone softened?
At the start of 2016, Duda published a plan to force lenders to convert such loans into zloty at a "fair" exchange rate, which the regulator said would have cost the industry as much as 67 billion zloty. In April last year, ruling party leader Jaroslaw Kaczynski called foreign-currency loans a "modern form of slavery" as nearly a decade of franc appreciation boosted costs for borrowers, even as banks continued to profit from the well-performing loans.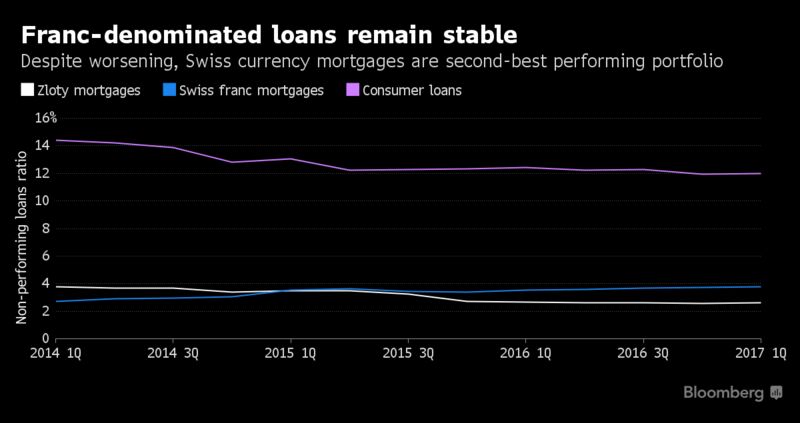 In August, Duda dropped his mandatory-conversion plans for at least a year to give Governor Glapinski a chance to resolve the issue through tighter regulatory requirements.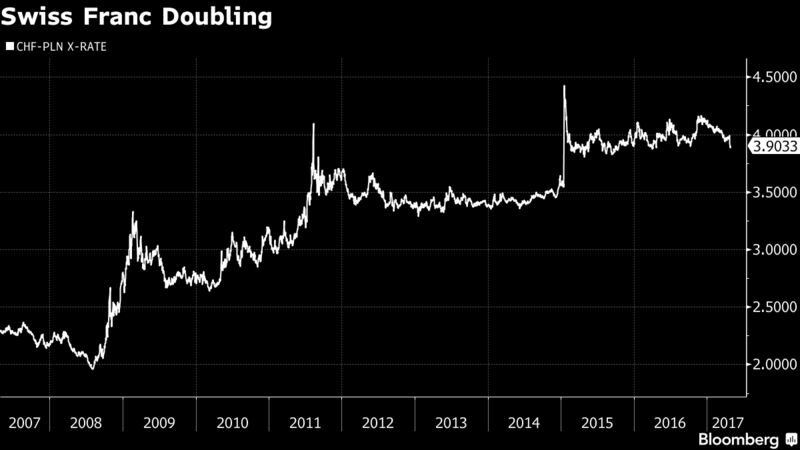 Kaczynski also tempered his views, saying three months ago that the authorities couldn't "take actions that could shake the banking system" and that the best way for Poles to get rid of the "abusive" terms of their loans was to sue their banks, not wait for legislation.
The WIGBank index of Warsaw-listed lenders surged to an almost two-year high after his comments. But since then, lenders' valuations have gained 0.8 percent, compared with a 7.2 percent advance by the benchmark WIG20 gauge
A Warsaw district court ruled a non-zloty loan invalid this month, saying provider Bank Millennium SA didn't actually give the credit in francs but in zloty equivalent, and it failed to properly outline repayment rules. Millennium said it planned to appeal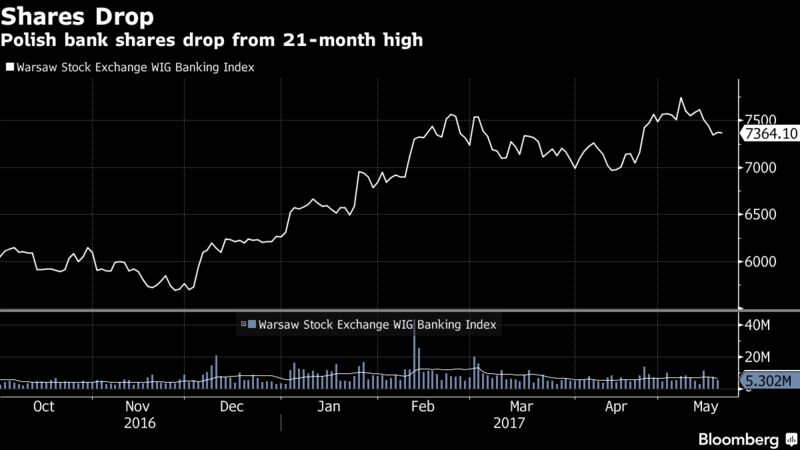 Q: What do the banks want?
Krzysztof Pietraszkiewicz, the head of Poland's Banking Association, said this month that lenders were ready to support the most-troubled borrowers if politicians walked away from their legislative plans. The strengthening zloty, record-low unemployment and the prospect of interest-rate increases in Poland are limiting the appeal of swapping loans into the local currency, he said.
State-controlled PKO Bank Polski SA, the nation's biggest lender, is planning to give borrowers with debt-to-income ratio exceeding 65 percent relief if they convert into zloty, Chief Executive Officer Zbigniew Jagiello said on May 22
The plan envisages keeping the most-needy clients' monthly payments unchanged, with less than 10 percent of PKO's mortgage holders qualifying; analysts estimatethe cost of this plan may be as much as 600 million zloty per year for PKO. The bank, in a statement to Bloomberg, said it will only offer the conversion once.
Politicians and bankers are awaiting the results of PKO's voluntary conversion

If it's a success, others lenders may emulate it, with the industry's cost seen at 1.3 billion zloty, according to Erste Group Bank AG
If not, it may be presented as evidence for politicians that a vast majority of Poland's 565,000 non-zloty loan holders don't want to switch currencies
["Source-ndtv"]