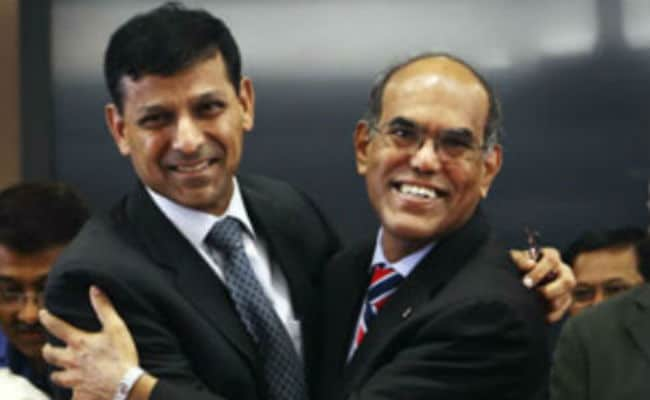 Mumbai:
 Former RBI governor Duvvuri Subbarao on Friday spoke out against the idea of having a 'moral code of conduct' for the central bank head, strongly defending the right of public intellectuals like his successor Raghuram Rajan to use the gravitas of the office for public good.
"I don't think there should be any code of conduct on what subjects the Governor can talk about," he said at a special event at the RBI headquarters to launch his memoir 'Who Moved My Interest Rate'.
"I don't think its advisable to compartmentalise that he talks about issues relating only to central banking…to say that the Governor should not go beyond central banking, I think is ill-advised. If the Governor is indeed a public intellectual as Governor Rajan is, I think it would be good, appropriate, advisable and desirable that he speaks about those issues," he said.
"The Governor does enjoy a certain amount of recognition in the public and if he is able to communicate on some of those larger issues using the gravitas of his office, I think his contribution to the larger public will be great," Mr Subbarao said.
It can be noted that the academic-turned-central banker Dr Rajan often spoke his mind on issues which critics termed as beyond his remit and were inferred as stances contrary to the government of the day's stated positions.
This included invoking Hitler's legacy to wonder if stronger governments are good for the people, pitching for tolerance in the face of lynching of a Muslim for allegedly storing beef near the national Capital last September and also questioning the government's high-octane 'Make in India' initiative.
Dr Rajan had defended his speeches last week, saying all the 'controversial' public speeches were "perfectly legitimate" ones within the remit of a central bank head and asserted that he was never critical of the government in any instance.
"These are perfectly legitimate speeches. You can interpret them any which ways you want," Dr Rajan had said.
"In none of those speeches that I have made has there been an explicit criticism or an implicit criticism of the government. There are people who read the interpretation of what is the speech I have given," he had said.
After his decision to return to academia after his term ends on September 4, there have been voices suggesting that his candid public speeches were one of the aspects which made the government uncomfortable about reappointing Dr Rajan for another term.
["source-ndtv"]