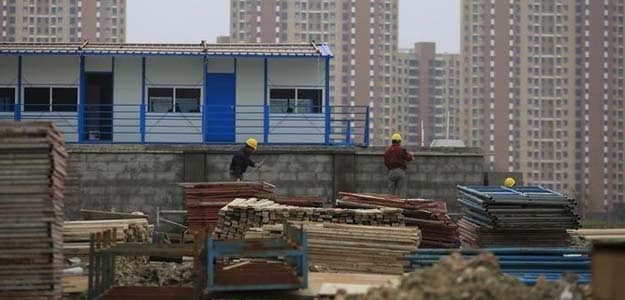 Beijing:
China's economy grew at its slowest pace in seven years in the first quarter, however, indicators from the country's consumer, investment and factory sectors point to nascent signs the slowdown in the world's second largest economy may be bottoming out.
Official data on Friday showed gross domestic product (GDP) grew 6.7 per cent in the first quarter from the previous year, in line with analyst forecasts and easing slightly from 6.8 per cent in the fourth quarter.
While it marks the weakest pace of expansion since the first quarter of 2009, when growth tumbled to 6.2 per cent, other activity data reinforced previous signs that the economy may be finding traction with better-than-expected growth seen in retail sales, industrial output and fixed asset investment.
"The tentative economic recovery is the result of the relatively easy financing environment during the previous period," said Yang Weixiao, economist at Founder Securities in Beijing.
"The trend could be sustained until the end of the third quarter, when downward pressure will likely resurface."
Analysts who spoke to Reuters this week predicted growth would cool to 6.5 per cent due to planned cuts to industrial overcapacity and weak demand at home and abroad. China's economy grew 6.9 per cent in 2015, its slowest rate in a quarter of a century.
However, fresh activity indicators released Friday provide a more upbeat view on the economy.
Chinese banks extended 1,370 billion yuan ($211.23 billion) in net new yuan loans in March, exceeding analyst expectations and nearly double the previous month's lending of 726.6 billion yuan, suggesting renewed appetite for investment among wary Chinese corporates.
China's fixed-asset investment growth quickened to 10.7 per cent year-on-year in the Jan-March period, beating market expectations for 10.3 per cent, and industrial output growth leapt to 6.8 per cent, surprising analysts who expected it to rise 5.9 per cent.
Retail sales rose 10.5 per cent, slightly above forecasts of 10.4 per cent.
March export figures released earlier this week also staged an unexpected recovery, although some economists caution that seasonal effects from last year's late Lunar New Year holiday could be a factor.
Capital outflows, a major concern at the end of 2015, also appear to have eased in recent months along with the dollar's rise.
However, the tentative signs of recovery face off against a wide range of risks present in both the domestic and global economies.
Analysts say the current recovery is due largely to blunt monetary, fiscal and administrative firepower, as opposed to improvements to firms' efficiency or market reforms.
Some economists warn another unsustainable debt-fueled recovery might run out of gas.
"Today's released data ought not to distract from the fact that the structural issues facing China's economy remain unresolved," wrote Economist Intelligence Unit economist Tom Rafferty in a research note.
"It has taken considerable monetary and fiscal policy loosening to stabilise economic growth at this level and this effort has distracted from the reform agenda that is fundamental to long-term economic sustainability."
["source-ndtv"]