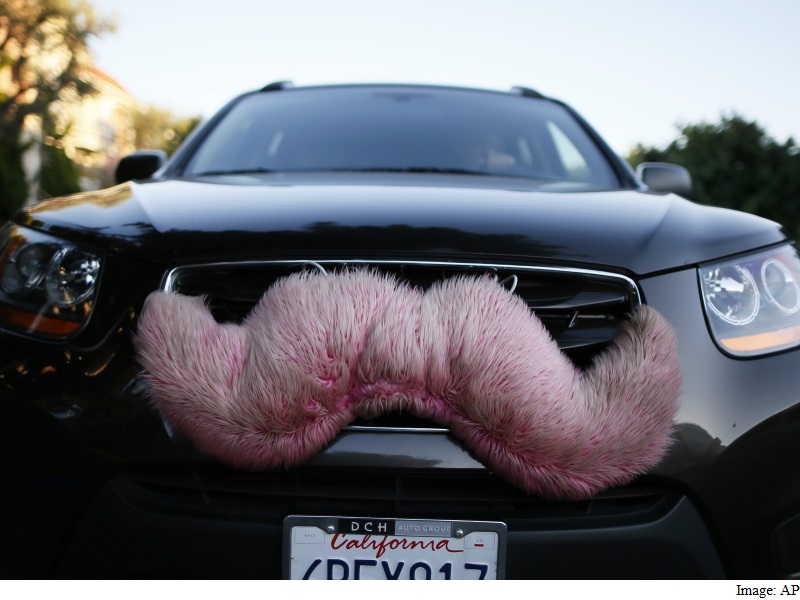 Visit many of America's top landmarks, and amid the crowds of tourists, you'll find hip, young people in pink, mustache T-shirts. This small army, spread across 20 of the largest US cities, has been out in full force since late last year, handing out $50 Lyft ride vouchers to anyone passing by.
For those who happen to miss the street teams, Lyft Inc. has been running giant billboards in Times Square and on bus stops around the country. Once a customer signs up, the company keeps them coming back by offering half-off fares on weekdays in Atlanta, Chicago, Miami, and other cities.
All these promotions are not cheap. In January, Lyft said it raised $1 billion (roughly Rs. 6,660 crores), which is helping fuel the spending spree and steal market share from Uber Technologies. To keep costs in check, Lyft has promised investors to cap its losses at no more than $50 million (roughly Rs. 333 crores) a month, according to a person familiar with the matter who asked not to be identified because the plans are private.
Meanwhile,Uber  has been working to fulfill its own promise to shareholders and employees that it would achieve profitability in North America by the second quarter of 2016, a milestone it says it has now reached in the US and Canada. In February, Uber earned an average of 19 cents per ride in the United States, according to previously undisclosed financial documents.
Uber takes about a 25 percent cut of a typical fare, most of which goes to antifraud efforts, credit-card processing, customer support, marketing, and software development, the documents show. Not included in Uber's profitability calculations are interest, taxes, or equity-based compensation for employees.
Uber Chief Executive Officer Travis Kalanick's commitment to profitability has left an opening for Lyft, and the smaller upstart's free-spending strategy is starting to pay off. While each company offers differing market-share numbers, they agree that Lyft is expanding in major US cities. "Because it's a two-sided market, it's really important that these firms build up substantial market share," says Evan Rawley, a business school professor at Columbia University. "It's a good strategy for Lyft. I think it makes a lot of sense."
Lyft says it has captured 45 percent of trips in Austin, Texas, and Los Angeles and 43 percent in San Francisco, where both companies are based. Uber says it had 55 percent of ride-hailing sales in Austin, 75 percent in Los Angeles, and 66 percent in San Francisco, citing third-party credit card data from the first two weeks of March. Uber says Lyft has shaken loose only a few percentage points.
"From everything I'm looking at, we're gaining share in all top 20 markets, which is where 80 percent to 90 percent of rides happen," says Lyft President John Zimmer. "This continues to prove what we said all along, which is once you hit a certain level of scale, it's a natural duopoly."
Outside of big cities, though, it's still Uber country. Of 169 million trips booked through Uber worldwide in March, the company says 50 million of those were in the US Lyft says it did 11 million US rides that month, up from 7 million in October.
Lyft continues to devise new-and often expensive-ways to expand in the US, the only country in which it operates. When a Lyft driver refers someone to sign up as a new driver, both get a $750 bonus in some cities. And Lyft has the capacity to keep spending. Zimmer says the company still has "by far the majority" of the $2 billion it's raised from investors. "This allows us to control our own destiny. We do not need to raise any additional capital, and it's just a fantastic position to be in."
Whether Lyft's gains will stick remains to be seen. Uber says customers lured away by subsidies are the most likely to return if Lyft's prices go up. "It's easy enough to buy trips with heavy subsidies for drivers and discounts for riders," Jill Hazelbaker, a spokeswoman for Uber, wrote in an email. "But to build a successful, long-term business, you need a path to profitability-which Uber has always had."
Uber isn't limited by a lack of funds, either. The company is sitting on at least $6 billion (roughly Rs. 39,962 crores) in capital, along with a $2 billion (roughly Rs. 13,320 crores) credit line, according to people familiar with the matter. But Uber had said it would spend at least $1 billion in China last year and plans to drop another $1 billion there this year. In the first three-quarters of 2015, the company lost $1.7 billion (roughly Rs. 11,322 crores) on $1.2 billion in revenue globally, Bloomberg reported in January.
Uber needs to show investors, who have given the company a valuation of $62.5 billion (roughly Rs. 4,16,276 crores), that it's capable of turning a profit at home if it intends to sink more money into Asia, says Arun Sundararajan, a New York University business school professor. "The expectations on when Uber will hit profitability have a shorter clock on them because Uber's valuation is so high," he says. "Lyft has a little more runway."
Uber lost money for years in the US and has only just started to turn a profit. That hasn't stopped the company's backers from grumbling about its rival spending aggressively on growth. Bill Gurley, an Uber board member, says Lyft's price war is bad for business. "As long as private companies are allowed to recklessly burn massive amounts of capital, we'll simply have no idea how sustainable their businesses are," he says. Gurley then made his views official with a on Tuesday: "Excess capital is really bad for founders. Leads to excessive competition and poor returns."
["source-ndtv"]