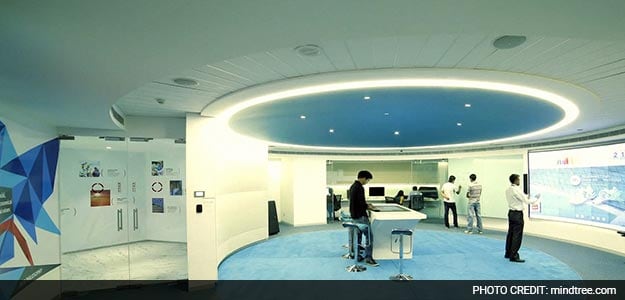 Shares of Mindtree slumped as much as 9 per cent to a 52-week low of Rs 559 today after the mid-tier IT company reported disappointing first-quarter earnings.
Mindtree in the quarter ended June 2016 reported a 7.2 per cent decline in net profit to Rs 123 crore on a sequential basis, hurt by a contraction in its operating or EBITDA margins.
The Bengaluru-based IT company's operating margin fell 200 basis points to 14.7 per cent on a sequential basis in the June quarter.
Revenue inched 0.6 per cent higher sequentially to Rs 1,327 crore.
The widely tracked dollar revenue was also below the Street's expectations. Dollar revenue was up 2 per cent sequentially to $199 million in the June quarter against the Street's expectations of $202 million.
Attrition on an annualised basis inched higher to 16.5 per cent in the June quarter from 15.7 per cent in the March quarter.
Rostow Ravanan, CEO of Mindtree, told NDTV Profit that the travel segment had some client-specific issues in the first quarter. He said the company is likely to see moderate growth and stable margins in the second quarter. Overall, the second half the year will be stronger than the first half, he added.
G Chokkalingam, founder of Equinomics Research & Advisory, said that Mindtree shares were trading at very high valuations and the earnings disappointment hurt the stock price.
Domestic brokerage Religare in a note termed the earnings miss from Mindtree as "yet another red flag in Indian IT".
Mindtree's earnings disappointment come in the wake of a guidance cut from Infosys last Friday, which led to a selloff in Infosys shares.
Religare has a "sell" rating on Mindtree, citing its weak outlook for the IT sector. The brokerage has slashed its March 2016 target price to Rs 540 from Rs 730, after cutting Mindtree's FY17 estimated earnings per share by 20 per cent.
Shares of Mindtree ended 8.5 per cent lower at Rs 561 as compared to a flat Sensex.
["source-ndtv"]