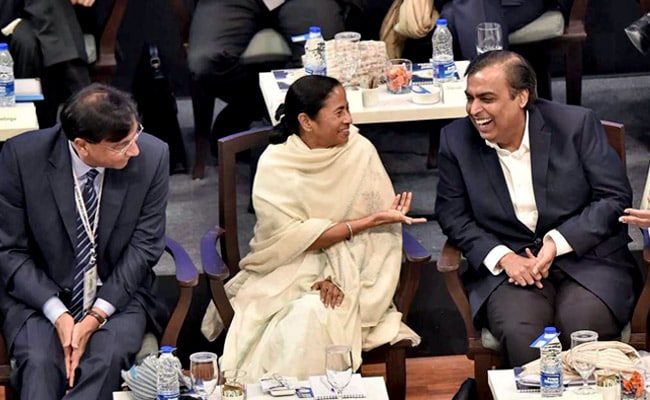 Mamata Banerjee with Mukesh Ambani and Lakshmi Mittal during the business summit (PTI)
KOLKATA: India's ad industry should come down to Kolkata for the Bengal Global Business Summit next time. Not to invest big bucks but to hunt for talent.
"West Bengal is becoming Best Bengal" under the leadership of Chief Minister Mamata Banerjee, said Reliance Industries Ltd chief Mukesh Ambani. He was announcing investments in non-digital sectors worth Rs. 5,000 crore in the next three years. And more in almost 10 Jio related areas.
Dr Niranjan Hiranandani, co-founder and managing director of Hiranandani Group, engaged in real estate business and ranked among the top 100 richest Indians and Forbes global billionaires, waxed eloquent.
"Mamata is not just the best chief minister, she is super kay upar," he said.
Dr Hiranandani's group plans Rs. 1,200 crore investment in the next two years to bring piped gas to Kolkata.
SpiceJet chief Ajay Singh said: "Mamata Banerjee has atomic power plant inside her powering Bengal's growth."
He has promised to turn Bengal's rivers and ponds and lakes into runways for seaplane. He will also stretch building seaplane here. Big tangible: Fly SpiceJet from Andal airport in Durgapur to Bangalore and Hyderabad.
Kishore Biyani of retail-giant Future Group said, "Coming to Bengal is the is rightest decision we have taken."
Asia's richest banker Uday Kotak of Kotak Mahindra Bank said, "Was told to invest in the west of India and never to the right." Asked why, his economics professor said, "mindset… Mamata Banerjee has changed Bengal's mindset."
Nine partner nations and half a dozen other teams from foreign countries are a part of this year's summit. From Poland to China, Japan, US, France, UK and Germany.
A clear picture on what Bengal will scoop up from the summit will become clear after the plenary session tomorrow.
Besides business, the biggest talking point at the summit is the venue. A brand new chrome and glass Biswa Bangla Convention Centre at New Town Rajarhat with a superlative 3,200 seat auditorium and every other facility you could want.
Mamata Banerjee has set her targets high. Delivery awaited.
["Source-ndtv"]