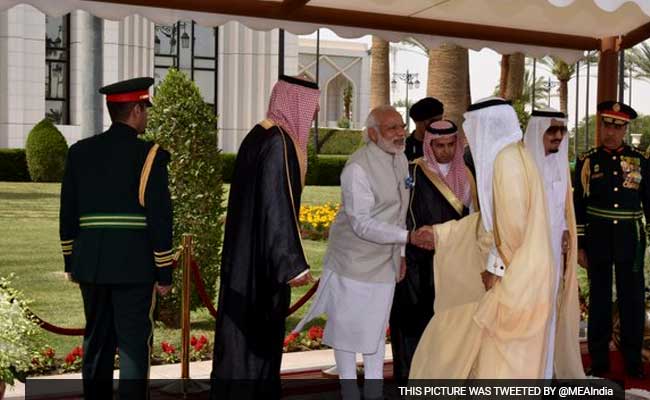 RIYADH: 
Seeking to inject new momentum in bilateral ties, Prime Minister Narendra Modi today held wide-ranging talks with Saudi King Salman bin Abdulaziz on ways to expand strategic cooperation in a range of areas including trade, investment and counter-terrorism.
Energy-powerhouse Saudi Arabia is India's largest crude oil supplier, accounting for about one-fifth of total imports and both sides were of the view that cooperation in this sector should expand.
Before his talks with the King, PM Modi, who arrived in Riyadh yesterday on a two-day visit, was accorded an official welcome at the Royal Court.
In the last seven months, it is PM Modi's second visit to the Gulf, a strategically important region which is home to over 8 million Indians and key to India's energy security. He had visited United Arab Emirates in August last year.
India's ties with Saudi Arabia have been on an upswing over the last two decades based on burgeoning energy ties.
Both sides are keen on expanding the economic ties in a range of areas besides the oil sector.
Ahead of his talks with the King, Saudi Foreign Minister Adel Aljubeir called on PM Modi and discussed a number of issues of mutual interests.
Khalid A Al Falih, Minister of Health and Head of Saudi Arabia's national oil company Aramco also called on PM Modi. He told the Prime Minister that Aramco looks at India as its most preferred investment destination.
"Minister Al Falih to PM: Saudi Aramco looks to India as its No.1 target for investment," External Affairs Ministry Spokesperson Vikas Swarup tweeted.
Earlier, PM Modi interacted with a group of 30 Saudi and Indian businessmen and invited CEOs of top companies of the oil-rich country to invest in India's defence, energy, railway, health and agriculture sectors.
Stating that there is huge opportunity to ramp up trade ties, the Prime Minister said time has come to move from "buyer-seller relationship" to chart a new path of growth and development which will benefit people of both the countries.
"We have to look beyond the buyer-seller relationship. Because that will be an obstacle in the path of progress," he said.
PM Modi is the fourth Indian Prime Minister to visit Saudi Arabia after Manmohan Singh in 2010, Indira Gandhi in 1982 and Jawaharlal Nehru in 1956.
His visit to Riyadh comes amid the current turmoil in the Middle East and the issue is understood to have figured in his meeting with the Saudi leadership.
["source-ndtv"]