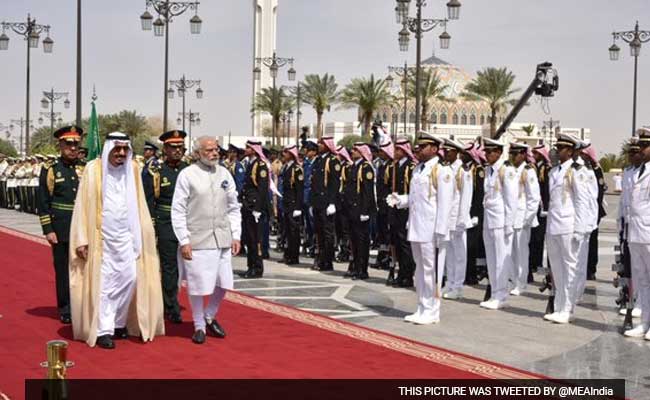 RIYADH: 
Prime Minister Narendra Modi on Sunday invited oil-rich Saudi Arabia's top business tycoons to invest in India's key sectors like defence, insurance, railway and oil as he projected his country as an attractive investment destination even in the face of a global economic slowdown.
Saudi Arabia is planning to set up world's largest sovereign wealth fund of over USD 2 trillion and India was eyeing a major investment from the country which is India's fourth largest trading partner.
Listing policy initiatives taken by his government to boost economic growth, PM Modi said his government was looking for major investment in defence production, railways and deep sea off-shore oil exploration in coal gasification to produce clean energy.
The Prime Minister made the pitch while interacting with a group of 30 top Saudi CEOs and Indian business leaders at the Council of Saudi Chambers of Commerce here.
The Saudi business honchos, who attended the interaction, collectively account for a major share of the Saudi GDP.
Talking about his government's initiative in "high temperature deep sea off shore exploration", PM Modi invited Saudi investment in the sector which has been opened up for FDI from this month.
He said "most transparent" policy framework has been put in place and that market driven revenue sharing model will be adopted for such project.
The Prime Minister said India plans to build a staggering 50 million low cost housing, a mega project requiring huge investment which will create massive economic opportunities besides creating jobs.
"I want to give house to every poor Indian. I think every year a new Saudi Arabia has to be built in my country. That is a huge requirement," he said.
PM Modi said railways and food processing sectors have been opened up for 100 per cent Foreign Direct Investment and that there is huge investment opportunity in building cold storage network as well as in manufacture of equipment for generation of solar power.
Pitching for Saudi investment in the defence sector, PM Modi said India's biggest import bill after petroleum products is defence equipment and asserted that the government now is focusing on indigenous production.
"We are importing everything. Why not we develop defence equipment in India. Your investment can play a major role in this," he said.
["source-ndtv"]