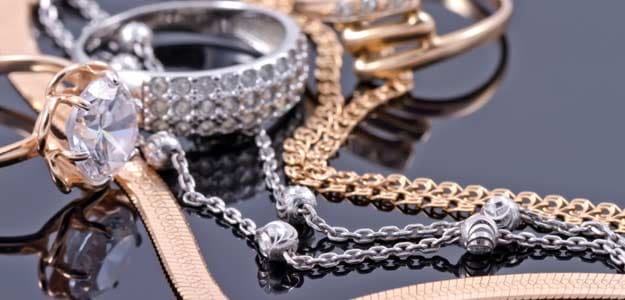 New Delhi
: Silver prices soared by Rs 2,155 to trade at a 28-month high of Rs 47,715 per kilogram at the bullion market on Monday.
Prices of the white metal have risen nearly 44 per cent since January 1, 2016.
Gold also edged higher by Rs 100 to Rs 30,650 per 10 grams.
Sentiment remained extremely bullish after the white metal vaulted $21 in global market for the first time in two years as investors sought precious metals as haven assets following the UK's vote to leave the European Union, bullion traders said.
The weakening of the US dollar against its rivals too raised appeal for the precious metals, they added. Moreover, an increased offtake by domestic industrial units and coin makers buoyed the sentiment.
"Speculative buying activity in anticipation of further rise in its prices, also helped the white metal to trade above the Rs 47,000 level," said Rakesh Anand, a Delhi-based jeweller.
Globally, silver climbed 7 per cent to $21.13 an ounce and gold surged 1.2 per cent to $1,357.63 an ounce in Singapore – the highest level in more than two years.
In the national capital, silver ready continued its upward journey for a sixth straight day and climbed by Rs 2,155 to trade at Rs 47,715 per kg – its highest level since March 5, 2014 when it had closed at Rs 47,400 per kg.
Silver weekly-based delivery too went past the Rs 46,000 level by recording a hefty rise of Rs 1,600 to Rs 46,800 per kg.
Tracking the white metal's prices, its coins also spurted by Rs 2,000 to quote at Rs 76,000 for buying and Rs 77,000 for selling of 100 pieces.
On the other side, gold of 99.9 and 99.5 per cent purity were up by Rs 100 each at Rs 30,650 and Rs 30,500 per 10 grams respectively.
Sovereign, however, ended flat at Rs 23,400 per piece of 8 grams.
["source-ndtv"]