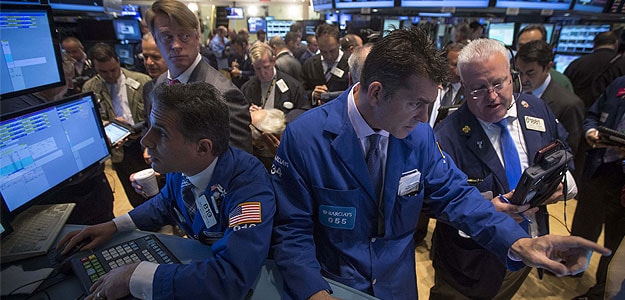 New York:
U.S. stock prices rose on Monday, with the Dow Jones Industrial Average and S&P 500 posting record closes amid upbeat company earnings, while oil fell on worries about growing supply and traders brushing off a failed coup in Turkey.
As Turkish authorities sought to retaliate for a bid by a faction of the armed forces to seize power, traders pared safe-haven holdings of yen, gold and low-risk government bonds.
"We're now on to the next shiny new object and that's earnings season," said Paul Nolte, portfolio manager at Kingsview Asset Management in Chicago. "As long as companies beat earnings estimates, investors will feel comfortable buying stocks."
Bank of America, the No. 2 U.S. bank by assets, and fellow S&P 500 component Hasbro posted better-than-expected profit for the second quarter, mirroring the results of the few companies, including big banks, that reported last week.
The Dow Jones industrial average unofficially closed up 16.5 points, or 0.09 percent, at 18,533.05, the S&P 500 ended up 5.15 points, or 0.24 percent, to 2,166.89 and the Nasdaq Composite finished 26.20 points, or 0.52 percent, higher to 5,055.78.
Japan's SoftBank Group's $32 billion deal to buy British chip designer ARM Holdings briefly lifted European equities to a three-week high.
The FTSEurofirst 300 index ended 0.2 percent higher at 1,338.06.
The MSCI world equity index, which tracks shares in 45 nations, rose 0.92 point or 0.2 percent, to 412.15.
Turkish stock prices, however, were down 7 percent.
Selling in oil futures was stoked by reduced worries about widening political instability in the Middle East as the coup bid in Turkey ended. Downward price pressure persisted on fresh U.S. supply data.
Brent crude settled down 65 cents, or 1.37 percent, at $46.96 a barrel. U.S. crude ended 71 cents, or 1.55 percent, lower at $45.24 per barrel.
The yen was down 1.3 percent against the dollar at 106.15 yen and 1.4 percent versus the euro at 117.53 yen as safe-haven trades tied to the coup attempt in Turkey were largely reversed.
The dollar index was little changed at 96.541.
The Turkish lira recovered after posting its biggest one-day drop against the greenback since October 2008 on Friday when news of the coup attempt broke, according to Reuters data. It was last up 1.75 percent at 2.9660 lira.
Spot gold prices fell $8.65 or 0.65 percent, to $1,328.80 an ounce.
Although concerns about Turkey's stability have abated for now, yields on 10-year U.S. and German government debt slipped on expectations the European Central Bank may embark on more stimulus to help the region's sluggish economy.
The 10-year Treasury yield was down 1 basis point at 1.585 percent, and the 10-year Bund yield down 3 basis points at -0.023 percent.
["source-ndtv"]